N.Y. Toy Fair: What's Old Is New Again, and Vice Versa
---
February 13, 2011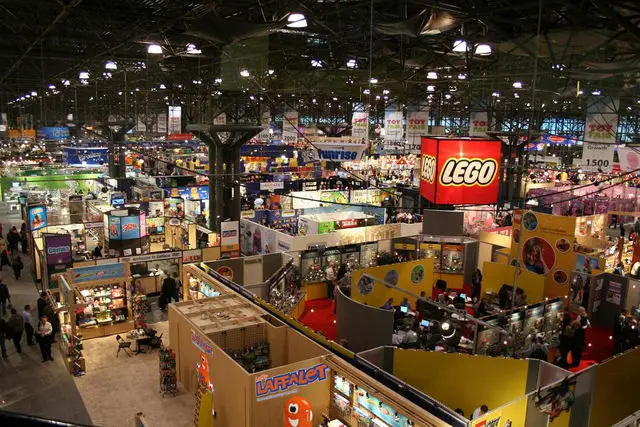 The second of the world's largest toy fairs (after the Nuremberg Fair) opened in New York, with retailers hopeful that their wide array of new products can continue a slight upward trend in sales evidence in 2010, after two years of decline.

The usual big industry names had their usual big industry presentations at the American Interational Toy fair. Mattel, Hasbro, Toys R Us, and Lego were among the big names offering large displays of bright, shiny and new toys and games for children and adults alike.

Some manufacturers stuck to the tried-and-true approach but with a new twist, such as the Toys R Us offerings in conjunction with the Disney movie Cars. The movie is a few years old now (2006), but on the theory that it's never too late to cash in on the movie's timeless appeal to the relationship between kids and cars, Toys R Us has issued a group of vehicles, tracks, and playlets all made entirely of wood.


Keeping with the movie tie-ins, Mattel was showing off a line of toys to go with the movie The Green Lantern and Hasbro was doing its part to help promote the movie Thor.

On the new-idea side of things, Lego was showing off Ninjago, a line of toys that features ninjas battling against an evil lord. Along with the usual building blocks that Lego is famous for, the company is also rolling out a trading card game and an online game — illustrating the various stages of toy evolution for the past few decades.

Advanced software drives many of the new toys featured at the fair, including a video camera inside the Videoracer from Hot Wheels, and a "Sweet Talkin' Ken" doll that says whatever its owner records on a built-in microphone.

In a move from new school to old school, Mattel was featuring a tabletop board game based on the hugely popular iPhone feature Angry Birds.

In all, organizers were expecting 30,000 people to mill around and view the offerings from more than 1,000 exhibitors.

Social Studies
for Kids
copyright 2002-2014,
David White
---