Focus on Green at Nuremberg Toy Fair
---
February 7, 2011
Green is the color of choice for many entries in this year's Nuremberg Toy Fair.
The popular exhibition in the central German city is a highlight for many toy manufacturers, and many of them this year are featuring toys that emphasize sustainability and renewable energy. Among the eye-catching entries is a doll house that is powered by a wind turbine and features a rainwater catcher, a toy car that runs on hydroelectric power, and a miniature space station that runs on solar power. The station, dubbed Future Planet, runs nominally on solar power but also runs on bright red "energy stones" that need to be inserted from time to time — a reminder that not all energy is plug-and-forget.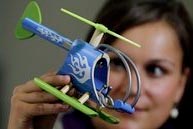 Another of the themes is toys made of "green" products, such as a toy helicopter made of bamboo. Also being discussed are sustainable methods of production and packaging.
The themes of sustainability and renewable energy are very much in discussions of the world these days, and toys can now be added to that list, especially since the Nuremberg Toy Fair is one of the largest in the world. In its 61st year, the Nuremberg event annually delivers more than 70,000 new product announcements from more than 2,500 manufacturers based in 64 countries. On offer are models, handicraft items, stuffed animals, and much more.
More here.

Social Studies
for Kids
copyright 2002-2014,
David White
---