Contaminated Food, Water the Latest Worry in Japan
---
March 20, 2011
The problems for the Japanese people continued to mount on Sunday, with the potential of an even wider threat due to contaminated food and water in the wake of leaking radiation at several nuclear reactors affected by the massive earthquake and tsunami.

The death toll stood at 8.450, with nearly 13,000 people still missing. Nearly half a million people are huddling in temporary shelters, their homes obliterated by floodwaters spawned by the massive tsunami waves. Rescue crews continued to report one or two people being pulled alive out of rubble, nine days after the quake, but such reports were growing increasingly rare. Early estimates of the damage done approached $250 billion.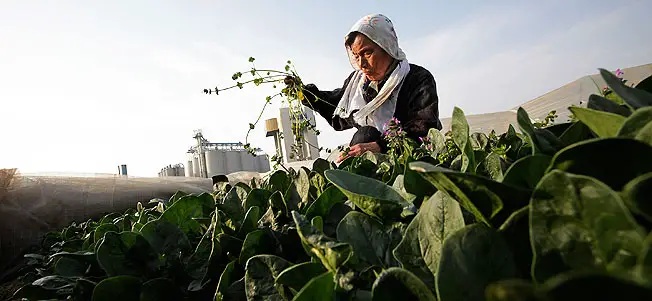 More ominously, officials at the Health Ministry were reporting excess amounts of radioactivity in food and water near the devastated Fukushima Dai-ichi Nuclear Power Plant, officials at which had reported several explosions and struggles to maintain cooling temperatures for the reactor's nuclear fuel rods. Earlier reports on food had resulted in government's halting shipments of spinach from one region of the country and raw milk from another. The latest reports were of other foods — canola and chrysanthemum greens. Radiation levels in those foods were no cause for widespread alarm, said health officials, who had been passing out iodine pills.

Tests also showed that tap water in several villages contained iodine and cesium (both of which are known to increase cancer risk) in excess of safety limits. Health officials asked residents of one city near Fukushima to stop drinking tap water. Bottled water was already in short supply, both in the northeastern part of Honshu, the hardest-hit area, and in Tokyo, where residents have snapped up emergency supplies in large numbers.

The country's main food source and export, seafood, continued to be unaffected by the disasters.

The nuclear reactors had been the subject of intense focus in recent days, as the power flickered and water levels evaporated. The government had succeeded in installing a new power line and dowsing the reactors with water from helicopters, and the possibility of meltdown seemed much less. Workers continued to work round-the-clock to make sure that the situation didn't deteriorate.


Social Studies
for Kids
copyright 2002-2014,
David White
---