Emperor Buoys Nation as Meltdown Prevention Continues
---
March 16, 2011
The people suffering through the aftereffects of the massively damaging Sendai earthquake and tsunami got two lifelines on Thursday, one from the emperor and one from a power company. Both were welcome relief for the millions of people seeking hope where often there is little.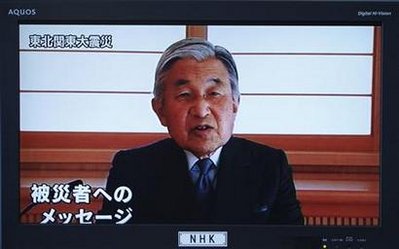 Emperor Akihito appeared on national television, urging the Japanese people to remain calm, remember those they had lost, and focus on rebirth and rebuilding. In his address, delivered from the Imperial Palace, the emperor urged his people to "never give up hope, take care of themselves, and live strong for tomorrow." It was the emperor's first public pronouncement since the 9.0 quake. Such public addresses are reserved for war or other times of extreme disaster.

The other lifeline came in the form of a power line, which Tokyo Electric Power Company was working methodically to connect to the power supply at the battered Fukushima Dai-ichi Nuclear Power Plant, where multiple explosions and radiation leaks have resulted in mass evacuations, several deaths, and worldwide concern. Nearly 200 emergency workers have been working round-the-clock, in shifts, to manually pump seawater into the fractured reactors, after the tsunami wiped out electricity to the plant and subsequent fires and explosions damaged the entire facility. Radiation levels have spiked in recent days, and white smoke poured out of the facility at times. The military dumped lots and lots of water on the reactors from helicopters, continuing frantic efforts to avoid full-scale meltdown. Once the power is restored at the plant, electric-powered water pumps will start again and a constant supply of water can be maintained to cool the nuclear reactors.


The twin lifelines would have been a boost in spirits for many people, amidst the massive destruction wrought by the devastating quake and waves. Snow fell on Thursday, heavily in some parts of the country, further hampering efforts to not only rescue people but also look after them when they had little in the way of food, clothing, or shelter. Temperatures dipped below freezing level as well.

Aftershocks continued as well, with the U.S. Geological Survey reporting more than 200 greater than 5.0 on the Richter scale and a further 35 greater than 6.0.

A staggering 450,000 people, many of them elderly, were in temporary shelters, requiring varying levels of attention. Of those in the northeastern part of Honshu who still had homes, millions were without electricity and/or running water. Thousands of people packed airports across the country, sleeping on floors while they waited for an opportunity to leave the country. Airport flights were in short supply, fueling demand for charter flights, the prices of which have skyrocketed in recent days.

As part of a massive international relief effort, the U.S. Military was providing all manner of supplies and assistance, including water for the nuclear reactors, food and clothing for temporary shelters, helicopters and ships to aid in the rescue and recovery efforts. Searchers found two people alive in the rubble, 72 hours after the tsunami's end; the death toll, however, was far greater.


In the capital, Tokyo, streets were quiet again, with many schools closed and many workers allowed to stay home by their employers or to simply leave town. Train services were reduced, as was electricity, as the main power company introduced rolling blankets to offset a reduced power capacity. Radiation in Tokyo has been minimal, but a strong aftershock recently sent residents determinedly to stores in search of survival supplies, including portable Geiger counters to measure radiation.

Not surprisingly, Japan has canceled a number of major events, among them Japan Fashion Week and the World Figure Skating Championships.

Social Studies
for Kids
copyright 2002-2014,
David White
---