Strong Aftershock Rattles Hard-hit Japan
---
April 7, 2011
Just as the northeastern region of Honshu was getting back on its feet, Japan's main island endured a powerful 7.1-magnitude aftershock, which briefly triggered a warning for a tsunami that did not materialize. Two people died in the resounding jolt.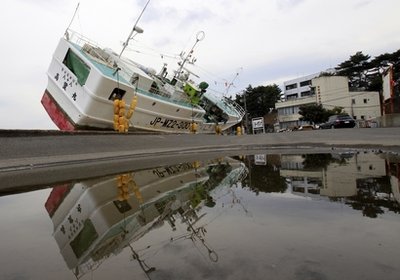 Ports suffered renewed damage, including a few boats turned on their side. Many buildings in the region shook violently, emptying the shelves of many stores. Frightened residents appeared not long after — close to midnight — to further empty the shelves of vital goods. Buildings as far away as Tokyo, 205 miles away, shook for a long 60 seconds.

A large number of homes and businesses were again without electricity. Among those was the Onagawa nuclear power plant, north of Sendai, focus of the initial quake and tsunami damage. Unlike the battered Fukushima Dai-ichi plant, the Onagawa had been shut down and showed no signs of leaking radiation.

Officials at the Fukushima Dai-ichi plant reported no further damage as a result of the aftershock. Workers at the plant continued to busily contain a widening problem. The latest action was to pump nitrogen into containment vessels around one of the reactors, in an effort to displace built-up oxygen so that it would not combine with hydrogen and create an explosion, similar to the one that ignited in the first few days after the quake, destroying a building surrounding the reactor.

The aftershock was about the same location and depth as the March 11 9.0-magnitude earthquake, 25 miles off the coast of Miyagi prefecture, and was a stark reminder at the vast task still ahead for recovery workers.

The death toll has passed 12,000. The number of people still reported missing is higher than that.

Many businesses are only now returning to production, and some are finding that their supply lines are either disrupted or demolished.

Social Studies
for Kids
copyright 2002-2014,
David White
---