---
Norway's Ulsom Claims First Iditarod Win

On This Site
Share This Page

---
Follow This Site



March 14, 2018
The Iditarod has a first-time winner.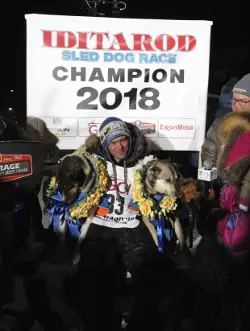 Joar Ulsom from Norway was first across the finish line in Nome and claimed victory in the 988-mile Iditarod Trail Sled Dog Race, dethroning defending champion Mitch Seavey, who placed third. Nic Petit, who led the race at one point, finished second.
Ulsom finished in 9 days, 12 hours. He seized the lead late in the race when Petit got blown off course during a blizzard. For his win, Ulsom claimed $50,000 and a new truck.
Ulsom, 31, is the third non-American-born musher to win the race. Another champion, fellow Norwegian Robert Sørlie, was on the trail to cheer. Sorlie won the race in 2003 and 2005. The other non-American winner was four-time winner Martin Buser of Switzerland (1992, 1994, 1997, 2002).
Ulsom lists his home as Willow, Alaska, after moving from Norway in 2011. He first entered the race in 2013 and was named rookie after the year. In his short racing history, he has not placed lower than seventh; his previous highest placing was fourth, which he achieved in 2014 and 2017.
The 2018 edition of the famed dog race had begun under a cloud, as members of People for the Ethical Treatment of Animals were at the start line to protest the deaths of five dogs during last year's event, and last year's second-place finisher, Dallas Seavey, had skipped the race because of what he called unfair treatment in the wake of the positive result of drug testing on four of his dogs from last year. Race organizers changed rules this year to incorporate punishment for the musher if any dogs tested positive for banned drugs. No positive tests have been reported.