Protests Gather Strength in Bahrain
---
February 21, 2011
Another flashpoint of struggle between protesters and a strong central government has emerged in Bahrain, whose leader, King Hamad bin Isa (in photo at bottom), is the latest in a royal dynasty that stretches back for 200 years.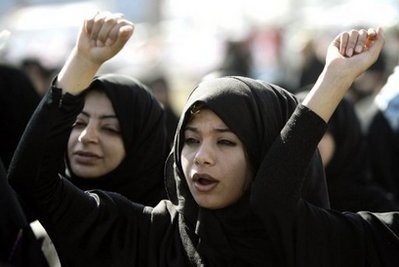 Reminiscent of the recent protest movement in Egypt, tens of thousands of people have gathered in Pearl Square, the main square in Bahrain's capital, Manama, to demand a more representative government. Despite the presence of a parliament, the crown prince currently has the power to dictate policies and make all political appointments. The prime minister, uncle to the crown prince, has been in his post for 40 years.

The crowds in Pearl Square and elsewhere across the small country are nowhere near as large as Egypt's, in numbers, but Bahrain has only half a million citizens, so the proportion of people demonstrating in public compared to the overall population is sizable. The protesters range in age from young students — the lifeblood of Egypt's recent protest movement — to retirees.

The protests have gone on for a week or so now, and the government's initial response to crack down violently, firing shots of warning into a crowd and killing several people. Undeterred, the protesters have kept up their calls for reform, some of the calls more radical than others. Prominent opposition leaders are returning from exile to join in the protests. The government has said that it is willing to discuss reforms but not to fully remove itself from power.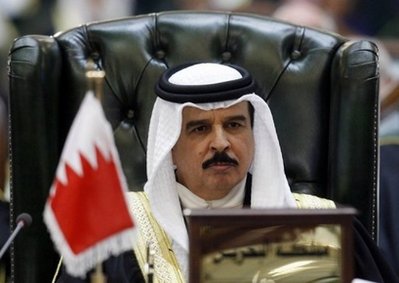 Like Egypt, Bahrain has struggled economically since the protests began. International entities have lowered the country's main credit ratings, and the wildly popular Bahrain Grand Prix (due to run on March 13) has been postponed. The Formula One race is the country's largest international event and has brought in large sums of money since its beginning in 2004.

The main disagreement in Bahrain, though, is along religious lines. The royal dynasty and the government are very much Sunni Muslim. This is the case with a large part of the population as well. However, the majority of people living in Bahrain are Sunni Muslim.

Shias and Sunnis share some core beliefs but differ fundamentally on some key historical and theological details. The two groups trace their religious inheritance in different ways and worship in different ways. They largely oppose each other along religious lines, with cooperation to form governments relatively scarce. The number of Sunni Muslims is far greater than the number of Shia Muslims, yet many countries are ruled by Shia minorities through exactly the kind of dynasty that rules Bahrain.

Social Studies
for Kids
copyright 2002-2014,
David White
---