Mississippi River Closed to Forestall Flooding
---
May 18, 2011
The Coast Guard has taken the extraordinary step of closing the Mississippi River at one stage in order to prevent flooding further downstream.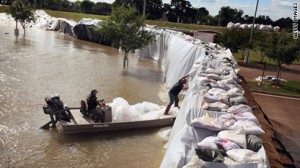 At the port in Natchez, Miss., barge traffic is at a standstill, both to keep downstream levees from being overwhelmed and from fears that the barges would be unable to get around safely in the elevated water levels. Port officials had no clear idea when the river traffic would resume. That the river is closed at all is indicative of the scope of the disaster, as port officials estimate that lost revenues could exceed hundreds of millions of dollars.

The Mississippi River, swollen beyond normal capacity by frequent rainstorms and higher than usual snowmelt, has seeped into surrounding land in several states along the long route to the Gulf of Mexico. Residents of Louisiana were on high alert, expecting displacement similar to those suffered in Tennessee, Mississippi, Arkansas, among other states in which a total of nearly 3 million acres of farmland has flooded. The water level at Natchez was already three feet higher than the record flooding of 1937, and the crest wasn't expected until the weekend. An intense watch on levees continued, staffed by engineers and, in some places, inmates.

In Louisiana, engineers have released water from the Morganza Spillway, opening it for the first time since 1973 and letting the floodwater flow through the bayou and away from Baton Rouge and New Orleans, where river levels have crested but show no signs of lowering any time soon.

Similar flooding has inundated Vicksburg, Miss., threatening thousands of Civil War-era graves, and Memphis, Tenn. Thousands of people have fled their homes, taking refuge with family and friends or in temporary shelters.

Social Studies
for Kids
copyright 2002-2014,
David White
---