Memphis Dodges Soggy Bullet as River Recedes
---
May 10, 2011
The Mississippi River near Memphis has begun to recede, but that is small consolation to the hundreds of people who have lost their homes, farms, and livelihoods because of the intense flooding, the worst in several generations along America's longest river.

The river crested in Memphis, leaving Graceland, the famous home Elvis Presley, and other musical landmarks relatively unscathed, but residents of the city were definitely in the mode of "Return to Sender," as they struggled to deal with intense water damage that may never be reversed.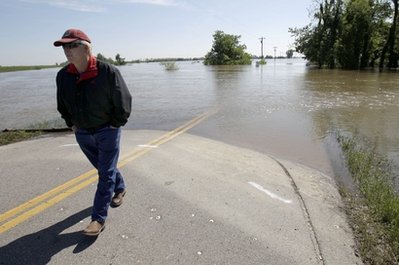 Hundreds of people, abandoning their homes to snakes and other water-friendly life forms, were sleeping in barns, churches, gymnasiums, recreation vehicles, and other temporary shelters; many others were staying with family, friends, and neighbors.

Memphis had built extensive levees after the city's worst flood, in 1937, and those levees have largely saved much of the city from going underwater; but residents remain on alert, mindful of the failure of levees surrounding New Orleans in the days after Hurricane Katrina.

Flooding has occurred to varying degrees in several states along the Mississippi and several of its tributaries, with many counties receiving federal disaster area status and the subsequent guarantee of federal funds to help repair the damage. Several cities in Mississippi face weeks of recovery as well, particularly because one of their main sources of income, riverboat gambling, has been severely disrupted.

Meanwhile, residents of other states wait their turn with grim determination, a ready supply of sandbags, and more than a few glimpses skyward.

The flooding follows on the heels of a series of deadly tornadoes and thunderstorms that killed a few hundred people across several Southern states and is the latest in a string of extreme weather events. The 2010 winter was extremely harsh in many parts of the country, and the resulting snow melt has also caused the Mississippi River to flood in North Dakota and South Dakota and in parts of Canada.
---
Custom Search

Social Studies
for Kids
copyright 2002-2014,
David White
---