---
100 Wins in a Row and Counting for Huskies

On This Site
Share This Page

---
Follow This Site



February 14, 2017
The Huskies have won 100 in a row.
The University of Connecticut women's basketball team achieved that feat with a 66-55 win over South Carolina, ranked 6th in the country. The Huskies, as usual, were ranked No. 1.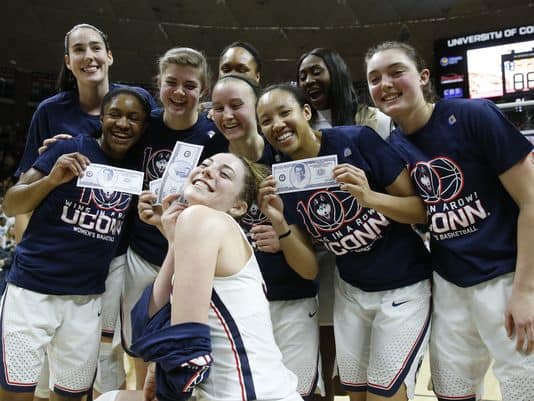 The Gamecocks held Connecticut's leading scorer, Katie Lou Samelson, to 6 points; however, as has become familiar to UConn fans and opponents alike, another Huskie stepped up: Gabby Williams scored a career-high 26 points and pulled down 14 rebounds, leading the way for yet another UConn victory.
The streak is the longest of any college basketball team. The Huskies themselves have the second-longest streak, a 90-game endeavor that stretched from 2008 to 2010.
The longest winning streak in the men's college game is 88 wins, achieved by the UCLA Bruins coached by the legendary John Wooden in the 1970s.
The longest known collegiate winning streak in basketball was 131 games, achieved by the Wayland Baptist Flying Queens, from 1953 to 1958, when women's teams played under the auspices of the Amateur Athletic Union.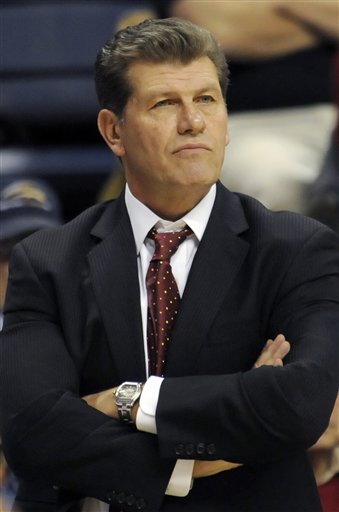 The Huskies have been riding high for awhile now. In 2016, the team won the national championship for the fourth year in a row. It was the 11th title for Coach Geno Auriemma (left), whose teams have reached the Final Four nine straight years; in his 30-plus years as UConn head coach, Auriemma has guided teams to 30-win seasons 21 times and undefeated seasons six times.
The current Connecticut team last lost on Nov. 17, 2014, 88-86, at Stanford, in overtime. Up to that point, UConn had won 47 games in a row.
Since the loss to Stanford, it's been all wins, all the time. A full 28 of the 100 wins have been against ranked opponents. Only two of those wins have been by fewer than 10 points. Most of the wins have been blowouts; the average margin of victory is 38.4. The closest call came this season, a 78-76 victory at then-No. 12 Florida State in the season opener.
The 100th consecutive victory was special as well for the Huskies program. It was homecoming at Connecticut, and in attendance were many former high-profile players, themselves part of the 90-game win streak or the 11 national titles.