---
Book Review: Eleanor Roosevelt, an Inspiring Life
Reading Level
Ages 9-12
Also in This Series
Also on This Subject
Share This Page

---
Follow This Site


---
One of the most famous women of the 20th Century was Eleanor Roosevelt. Best known as the wife of President Franklin D. Roosevelt, she was a worldwide figure in her own right and stood up for equal treatment across color, gender, and nationality lines. Possessing vast amounts of determination and energy, she did more in a day than most people did in a week.
Those details and many more are to be found in this delightful book in the Snapshot series, from Kids Can Press. Fans of the author Elizabeth MacLeod will remember her previous Snapshot books, Marie Curie, The Wright Brothers and Helen Keller. Each of those books had as its main feature the "talking subject." The focus of each book was a narrator, in the form of an illustration that introduced and reinforced many ideas along the way of the narrative.
This book has the same feature, with the "talking Eleanor" telling readers things she wants them to notice and remember. The things that students and adults alike should remember about Eleanor Roosevelt could fill a library full of books. The author does an excellent job of hitting all of the high points while also imparting a bit of trivia along the way (such as the fact that Eleanor Roosevelt remains the only person to receive a standing ovation by all of the delegates at the United Nations.)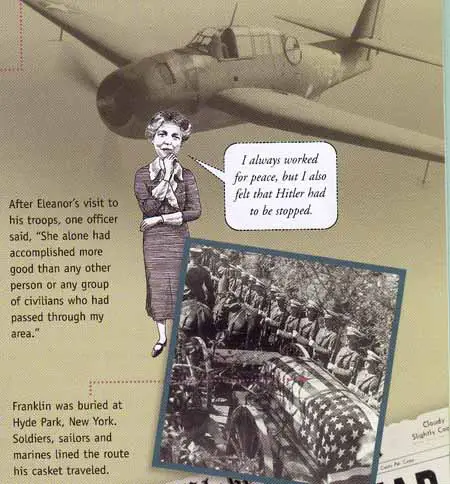 We see Eleanor grow from a shy, sheltered girl into a woman of enormous presence and confidence, willing herself to take on the role of mother, wife, confidant, and First Lady. In her extraordinary life, she did so many extraordinary things that she seems sometimes otherworldly to later generations, yet she was larger than life on the world stage for decades and persevered through a large number of extraordinary challenges. Hers could have been a difficult life of regret, yet she made it her own and transformed herself into an optimistic person with a vibrant will to make a difference in the world.
This book is an excellent introduction to the story of Eleanor Roosevelt and definitely the first step in further study of one of the world's most important women.