---
Eleanor Roosevelt: First Lady to the World
Share This Page

---
Follow This Site


Eleanor Roosevelt was one of the most well-known women of the 20th Century. First Lady to America's longest-serving President, she was famous in her own right and oversaw the drafting of the Universal Declaration of Human Rights.
She was born Anna Eleanor Roosevelt in Manhattan on Oct. 11, 1884, the child of parents who were each part of a prominent American family. In addition, her uncle was Theodore Roosevelt, a larger-than-life figure who served as President in the early 20th Century.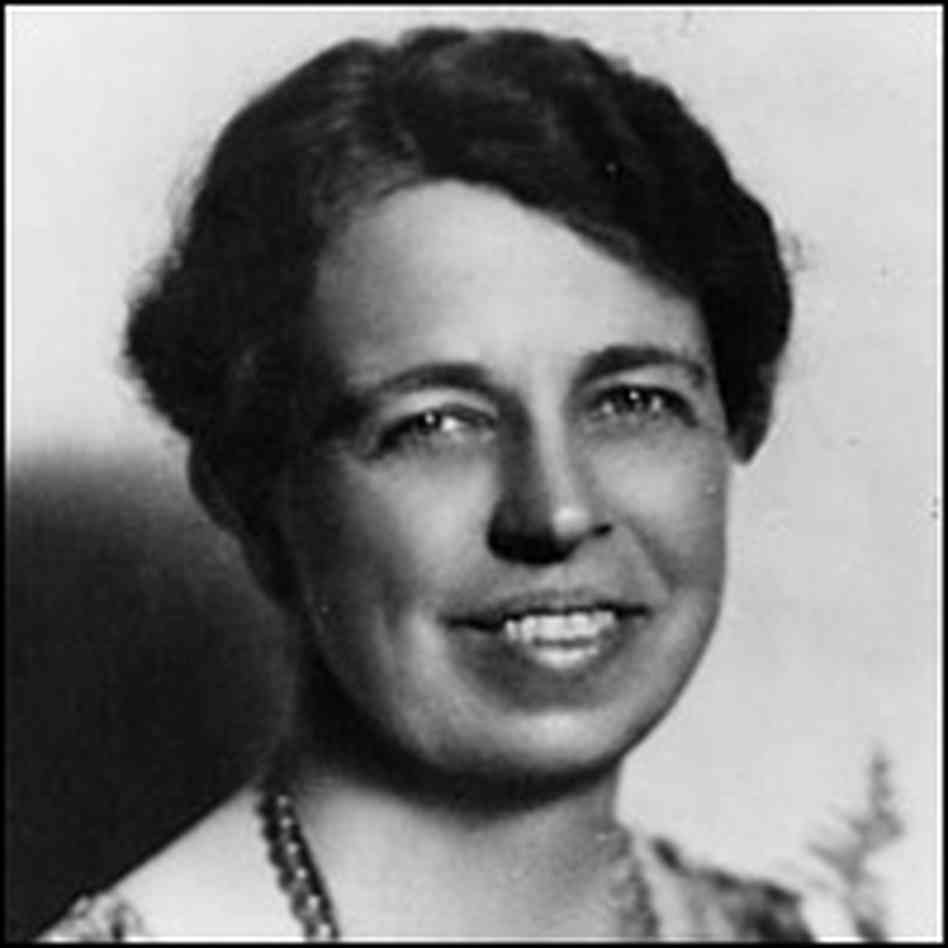 Eleanor was her parents' first child. Her two younger brothers, were Elliott Jr. and Hall. Eleanor's mother, Anna Hall, died when the girl was 8. Elliot Jr. died the following year. Eleanor's father, Elliot Roosevelt, died in 1894. Thus, by the time she was 10, Eleanor had only one surviving brother.
Eleanor went to live with her mother's mother, Mary Ludlow, in Tivoli, N.Y. Eleanor was not as beautiful as other girls her age, and she styled herself an "ugly duckling." She was, however, part of New York's high society and attended many society functions.
She had a private tutor for several years, then, at age 15, went to England to attend a private finishing school called the Allenswood Academy. The headmistress of this school, Marie Souvestre, taught her girls to think for themselves. Eleanor blossomed under this instruction and gained confidence that she had been lacking. Among other things, she learned to speak fluent French and gained a broad understanding of how the world worked.
Summoned home to rejoin New York society, Eleanor soon met her father's fifth cousin, Franklin Delano Roosevelt, who was a student at Harvard University. The two met on a train from New York City to Tivoli. They found that they really liked each other and soon began a secret romance. They were engaged on Nov. 22, 1903.
Eleanor and Franklin encountered resistance to their engagement almost immediately. His mother, Sara Ann Delano, was firmly in opposition; he was insistent, however, and conceded only to delay the marriage a year. Then, the couple had to set a wedding date that would work for Eleanor's Uncle Theodore, who by that time was President. Finally, Eleanor and Franklin married, on March 17, 1905.
The newlyweds enjoyed a brief, one-week honeymoon immediately after their wedding, then more thoroughly enjoyed a longer trip to Europe in the summer of 1905.
Eleanor had a contentious relationship with her mother-in-law, Sara. Complicating this relationship was the fact that the newlywed couple lived first in a house that was not far away from Sara's house and then in a townhouse that was connected to Sara's house by sliding doors. Initially, Sara ran both households and played a large part in the upbringing of her grandchildren, of which Eleanor and Franklin eventually had six.
Their oldest daughter was named after her mother, Anne Eleanor Roosevelt, born in 1906. The oldest boy, born in 1907, was James Roosevelt II. The third child, born in 1909, was Franklin Roosevelt, after his father. Elliott Roosevelt was the name of the fourth child, born in 1910. The last two boys (born in 1914 and 1916, respectively) were named Franklin Delano Roosevelt, Jr., and John Roosevelt II.
Eleanor worked with the Navy and the Red Cross during World War I. When President Woodrow Wilson appointed Franklin Assistant Secretary of the Navy, Eleanor and the children moved with Franklin to Washington, D.C.
The family were vacationing at Campobello Island, in New Brunswick, Canada, in 1921 when Franklin contracted polio, which left him paralyzed from the waist down. Franklin's mother tried to convince her son to retire and live the life of a country gentleman. Eleanor was convinced that her husband had great potential in politics. Roosevelt had by this time become a successful lawyer and had also become quite prominent in the Democratic Party and had, in fact, been the Vice-presidential nominee in 1920, as the running mate of Presidential candidate James Cox. (Republicans Warren G. Harding and Calvin Coolidge had won the election.)
Franklin couldn't get around the way he used to, so Eleanor traveled for him, making public appearances on his behalf. She played a large role in Franklin's 1928 campaign to become Governor of New York. He won. She then traveled around the state, making speeches and attending meetings that he could not. She inspected state facilities and then reported back to Franklin. He often said that she was his "eyes and ears."
Eleanor did all of those things and more once her husband became President. Franklin won the 1932 presidential election in a landslide. In the middle of the Great Depression, Franklin promised Americans a "New Deal." Eleanor was more of a public face for her husband than ever before. He was so popular that he was re-elected three times and was prevented from finishing his fourth term in the Oval Office only by his death, in April 1945.
Eleanor and a couple of friends had, in 1927, bought a college prep school in New York City called the Todhunter School for Girls. Eleanor taught American history and American literature and continued to teach when she was the wife of New York's governor. When she became First Lady, however, she stopped teaching at the school.
About the time that Eleanor was teaching, she had built a cottage called Val-Kill. The cottage was on the family estate, in Hyde Park, N.Y. Eleanor considered the cottage her home away from home and had many meetings there with friends and with other people committed to the social causes that Eleanor championed.
Gentle but firm, Eleanor could be genteel and understanding as well. She proved valuable in 1933, when a group of World War I veterans marched on Washington, D.C., and demanded early payouts on their veteran bonuses. The previous year, the veterans had conducted a similar protest and then-President Herbert Hoover had sent out the Army cavalry to clear the streets. When the veterans returned, First Lady Eleanor Roosevelt greeted them in the streets, listened to their concerns, and sang army songs with them. She convinced them that she would take their concerns directly to the President, and she did, prompting one veteran who had been part of both protest marches to remark, "Hoover sent the Army. Roosevelt sent his wife."
Eleanor was always looking for something to do. An accomplished speaker, she routinely gave press conferences, beginning in 1940. She was also an adept writer and wrote a newspaper column, called "My Day," that was syndicated six days a week nationwide for several years; in this column, she wrote about her daily activities and also campaigned for social issues that were not always in sync with her husband's political priorities.
Not at all afraid to travel, Eleanor kept a rigorous schedule of going around the country, pledging her husband's help for the thousands of people who were poor and/or out of work. Her efforts were so widely known that they become the mirthful subject of a New York cartoon (right) that imagined two coal miners encountering Eleanor in, of all places, a coal mine.
During World War II, Eleanor played a prominent public role. One of her jobs was as co-chair (with New York Mayor Fiorelle LaGuardia) of the Office of Civilian Defense, which coordinated civilian volunteer efforts across the country. Initially told not to tour war-torn Europe, she did make a trip to England, in 1942, and visited American troops in the South Pacific the following year.
Eleanor also played a prominent role in advancing the rights of women and in the drive to get women doing factory jobs left vacant by men who had gone off to war; as well, she promoted the idea that women should get paid the same as the men who had done the same jobs previously.
When she had her first press conference, in 1933, she allowed only female reporters to attend. (She had more than 300 press conferences in all in her 12 years as First Lady; male reporters did attend many of those press conferences.)
She was a prominent supporter of the drive that ultimately succeeded in Franklin's naming Frances Perkins as the first female Secretary of Labor.
African-Americans found quite a friend in Eleanor. She promoted racial equality, certainly during the war but more prominently after, and spoke up for the burgeoning civil rights movement. She invited hundreds of African-American guests to the White House. She was on the national board of the National Association for the Advancement of Coloured People and other well-known civil rights organizations.
In one well-known and well-publicized set of events, the Daughters of the American Revolution in 1939 told African-American singer Marian Anderson that she could not sing in Washington's Constitution Hall because she was black and, in response, Eleanor Roosevelt resigned from the group and arranged for Anderson to sing on the steps of the Lincoln Memorial.
World War II ended in Europe in June 1945 and in the rest of the world in August 1945. Franklin Roosevelt, however, had died in April. When Vice-president Harry Truman ascended to the presidency, he asked Eleanor to serve as delegate from the U.S. to the United Nations. She gladly accepted and, as always, played a prominent role in effecting great change. In 1948, she oversaw the drafting of the Universal Declaration of Human Rights.
Eleanor left the U.N. in 1950 but still led a very public life, appearing on television and radio shows and writing for newspapers and magazines. She campaigned for John F. Kennedy, the eventual winner of the 1960 presidential election. In 1961, Kennedy, in response to continued pressure from Eleanor to appoint women to posts in his government, appointed Eleanor the first chair of the President's Commission on the Status of Women.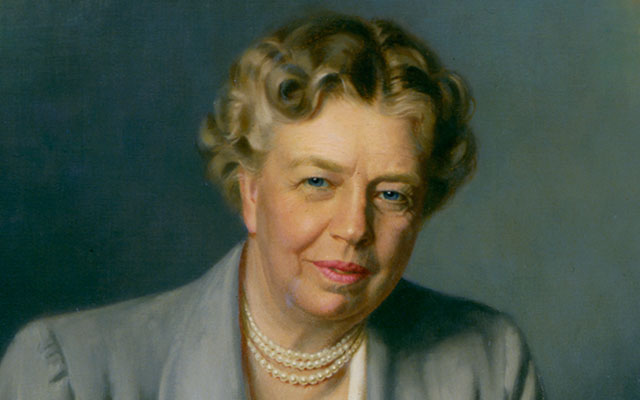 During the last four decades of her life, she was as well-known if not more well-known than her husband and was certainly more popular in many circles. She had a way of putting people at ease, many observers said, and a charm and wit about her that many people thought her husband didn't have. A shrewd politician, Franklin Roosevelt also encouraged his wife to embrace her public popularity and to be a go-between the heights of governmental power and the common man and woman. They were, many said, a dynamic duo.
Eleanor Roosevelt died on Nov. 7, 1962. She is buried next to her husband at the family home in Hyde Park, N.Y., now a national historic site.