---
Book Review: Curious Kids Guides
Reading Level
Ages 4-8
Also on This Subject
Share This Page

---
Follow This Site


---
These two new books are wonderful additions to the Kingfisher family.
The first, Curious Kids Guides: Long Ago, by Philip Steele, is actually probably better titled Middle Ages, for that's the primary time period in focus here. Still, it's a wonderful introduction to the Middle Ages.
The second book, Curious Kids Guides: Ancient Greece, by Fiona McDonald, brings the world of Athens, Sparta, and Mount Olympus to vivid life through vivid drawings and imaginative answers to common (and not so common) questions.
The question-and-answer format is used to perfection in these books. Each small section contains questions and answers on a certain aspect of the overall study.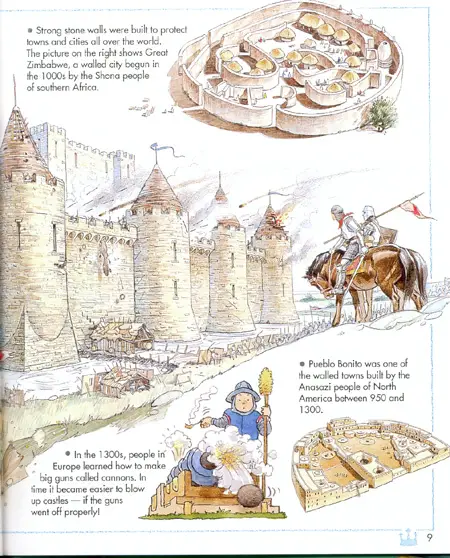 A good example of this is found in the Long Ago book, on a two-page spread that begins with the question, "Why did castles have moats." The authors answer that question, complete with illustration of said castle with said moat, then go on to describe other ways of protecting cities and settlements. As this illustration shows, the book also does a good job of describing Africa and North American during the Middle Ages. (These areas are not always discussed.)
Next 1 2
Graphics courtesy of Kingfisher
| | |
| --- | --- |
| Buy these books from Amazon.com | |