---
The First Summer Olympics
More of This Feature
On This Site
Share This Page

---
Follow This Site


---
Part 1: Action at the Games
The first modern Olympic Games took place in 1896, in Athens, Greece. A total of 14 nations sent athletes, totalling 245 (all men). The Games took place April 6–15. The number of events staged that year was 43, in 9 sports.
The events that year were these:
Cycling (sprint, 2000m, 10000 m, 100k, 12 hours track, marathon)
Fencing (individual foil, foil for fencing masters, individual sabre)
Gymnastics (parallel bars individual and team, horizontal bar individual and team, pommel horse, rings, rope climbing, vault)
Shooting (free rifle 200m, free rifle 300m, rapid-fire pistol 25m, military revolver 25m, free pistol 50m)
Swimming (100m freestyle, 500m freestyle, 1200m freestyle, sailors' 100m freestyle)
Tennis (singles and doubles)
Track (100m, 400m, 800m, 1500m, 110m hurdles, marathon) and Field (high jump, long jump, triple jump, pole vault, shot put, discus)
Weightlifting (one-arm lifts and two-arm lifts)
Wrestling
Greece dominated the medal standings, winning 10 first place and 46 total. Second was the United States, with 19, followed by Germany with 15. The U.S. actually won more first-place medals than Greece, 11 to 10, but Greece's 17 second-place medals were the totals difference.
(Interesting side note: Winners received silver medals, second-place finishers got bronze medals, and third-place finishers got nothing at all.)
Individual medal leaders included Hermann Weingartner of Germany, with 6 and four athletes who won 4: Germans Karl Schuman and Alfred Flatow, Bob Garrett of the U.S., and Viggo Jensen of Denmark. Schuman was the first-place medal leader, winning all four of his events in gymastics and wrestling.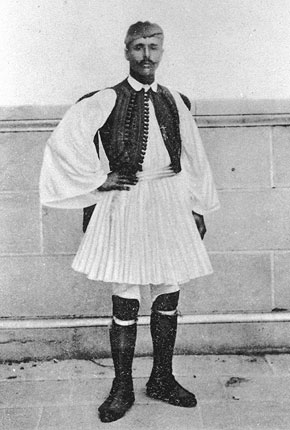 One fantastic story was the marathon. This event was conceived as a representation of the famous run by Pheidippides, the ancient messenger who ran from Marathon to Athens to announce the Athenians' victory over the Persians during the Persian Wars. The 1896 marathon was run over what was believed to be the same course, from Marathon to Athens. It was about 26 miles. A Greek peasant, Spiridon Louis, won the race and gained himself everlasting fame in the hearts and minds of his people. Louis was certainly not the fastest runner in the field, but he was first across the line.
Next page > How the Games Began > Page 1, 2