Michelangelo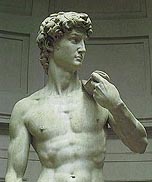 Michelangelo was a very famous man. He was a great painter, a great sculptor, a great architect, and a great everything. These sites help you learn more about this great man.
---
Sistine Chapel Ceiling Revealed
After four long years of labor, Michelangelo revealed to the public the paintings he had done on the ceiling of the Sistine Chapel. How did he paint on the ceiling, which was nearly 68 feet off the ground? Did he become rich because of this masterpiece? Find out the answers to these and other questions in this illustrated, easy-to-read article.
Michelangelo: Painter, Sculptor, Architect, Poet
Site focuses on all of Michelangelo's many strengths, proving why he was one of the most impressive men who ever lived.
Michelangelo: Sistine Chapel Ceiling
Look up, way up and see the glory that is the ceiling of the Sistine Chapel! Michelangelo did all of it, and it's huge and beautiful. Find out more about it here.
Visit to the Sistine Chapel
Take a virtual tour of one of the most famous sights of all time. See how Michelangelo did what he did, and learn how long it took him to do it.
The Digital Michelangelo Project
This site is loaded with information, and it looks great, too! Find out more about the great Michelangelo and why people thought he was so great.
Artcyclopedia: Michelangelo
This illustrated entry in the famous Artcyclopedia gives you the Michelangelo story in words and pictures. It also puts his accomplishments in perspective with other Renaissance artists.
More on Michelangelo
Think you know everything about Michelangelo? Think again. This site gives you even MORE information about the famous artist.
Michelangelo Sculptures
This site is written in Italian. If you speak it, you can get the full effect. If you don't speak it, you can still appreciate the great sculptures the famous man did.
WebMuseum: Michelangelo
No study of Michelangelo is complete without a visit to the WebMuseum. Here you can see background information, names and dates, pictures of his art, and much more!
Graphics courtesy of ArtToday