Halloween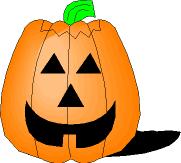 Find out more about the spooky holiday of Halloween!
The History of Halloween
Where does Halloween come from anyway? Where do Americans get those ideas about jack-o-lanterns and "trick-or-treating?
The Story of the Jack-O-Lantern
Who was Jack? Why did he have a lantern? Why are pumpkins carved with goofy faces? This fun articles tells you the story behind the story.
The First Trick-Or-Treaters
Trick-Or-Treating hasn't been around forever. Find out where it started and why it's still popular.
Halloween at Kids' Turn Central
Get to the Halloween Headquarters! This FUN site has EVERYTHING you need to have a GREAT Halloween: Find a great costume idea, stay safe when you trick-or-treat, carve a great pumpkin, play online spooky games, find cool coloring pages, and much more!
Halloween Costumes from Halloween Express
The biggest selection of Halloween costumes, accessories, props and Halloween decorations available anywhere
Halloween Costume Closet
Find hundreds of great costume ideas for the whole family at this helpful site, including patterns and ready-made.
Halloween Tricks and Treats
Hear scary sounds, read spooky poems, see edible eyeballs! Play games and solve puzzles! Be sure to listen to the Spooky Java JukeBox.
Halloween Ghost Stories
Share these spooky stories with your friends, if you're not too scared yourself!
Billy Bear's Halloween
Younger kids and their parents will enjoy Billy Bear's version of Halloween. Find coloring pages, virtual pumpkin carving, clipart, and other fun ideas.
Halloween on the Net
Great all-purpose Halloween site, including a focus on Mexico's Day of the Dead.
Halloween at KidsKonnect
You'll find LOTS of fun stuff at this spooky site. Don't be scared by the "eyes in the dark!"
Halloween Graphics and ECards
Tons of great Halloween clipart, wallpaper, and screensavers await you at this site. You can also send a Halloween ECard!
Free ECards from USAGreetings
They have cards for all occasions, especially Halloween.
Graphics courtesy of ArtToday