Valentina Tereshkova: First Woman in Space
---

Share This Page

---
Follow This Site



Valentina Tereshkova was the first woman in space, completing 48 orbits of Earth in 1963.
She was born on March 6, 1937, in Maslennikovo, Russia. Her father died in World War II, and her mother reared her children all by herself. Valentina balanced work in a tire factory and a cotton mill and education by correspondence. She graduated from Light Industry Technical School.
She found enjoyment in parachuting, enjoying her first jump when she was 22 and later completing training. It was that training that gave her an edge over other candidates when the call came for other cosmonauts to follow in the footsteps of Yuri Gagarin, the first person in space. The Soviet space program selected five women in all. Tereshkova was chosen to be the first woman in space in part because her parachute training was thought to have enabled her to survive the necessary ejection when the spacecraft cleared Earth's atmosphere. She underwent an extensive training regimen and was then assigned to a spaceflight.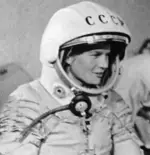 Aboard Vostok 6, she left Earth's surface on June 16, 1963. Just after blastoff, she called out, "Hey sky, take off your hat. I'm on my way!" She spent 2 days, 22 hours, 41 minutes in orbit, operating her manual controls to complete 48 trips around the planet and then parachuting to safety on June 19. It came out later that her spacecraft's navigation software malfunctioned and ground-based scientists had to write a new landing algorithm on the fly.
At 26, she was the first woman in space and was celebrated worldwide. She was awarded the Order of Lenin and proclaimed a Hero of the Soviet Union, the country's highest honor.
Tereshkova returned to her studies, gaining a doctorate in engineering. A few years later, she began a career in government, working for the Soviet Women's Committee and then the Supreme Soviet Presidium. She and her husband, fellow cosmonaut Andrian, traveled to other countries on goodwill tours. She also represented the Soviet Union at several international women's events. An author as well, she had published in an American journal an article titled "Women in Space."
She and Andrian Nikolayev were married in 1963 and had a daughter, Yelena, who was born in 1964 and went on to become a daughter.