---
Kate Sheppard: Suffrage Pioneer
Share This Page

---
Follow This Site


---
Kate Sheppard, the driving force behind New Zealand's women's suffrage movement, was not a native New Zealander. Like many who lived in the country at the time, she was born in England. Sheppard was born in Liverpool, in 1847. Her given name was Catherine, but she preferred Kate.
Young Kate grew up in London and in Scotland and Ireland. A very smart child, she learned quickly and absorbed knowledge in a variety of subjects, including languages, science, arts, and law. She also believed strongly in the Christian religion.
Kate's father, a clerk, died when Kate was 15. Three years later, in 1868, Kate's mother took the children, which were Kate and a sister and two brothers, to far-away New Zealand, where they settled in Christchurch, on the country's South Island, to live with Kate's older sister, Marie.
At 24, Kate married Walter Sheppard, who was a grocer. They had a son, Douglas, in 1880. Kate was active in Trinity Congregational Church and got involved with the temperance movement, which sought to place restrictions on the sale and consumption of alcohol. When Mary Leavitt, a member of the Woman's Christian Temperance Union of America, brought her temperance movement to New Zealand, Kate joined, helping found a similar chapter.
The WCTU (which stood for the same as the American version except for the W, which stood for Women's, not Woman's) grew in membership and stature in the next several years, and the members began to campaign not only for laws curtailing or prohibiting alcohol but also laws providing women the right to vote.
In 1891, the WCTU presented to Parliament a petition for allowing women the vote. The petition was signed by 9,000 women. A second petition the following year had 19,000 signature. The movement was growing. The women's suffrage movement had many male adherents as well, among them Prime Minister John Ballance.
Sheppard helped the suffrage movement gain strength around the country, visiting other cities and speaking out in favor of her cause. One of her more famous quotes is this: "We are tired of having a "sphere" doled out to us, and of being told that anything outside that sphere is 'unwomanly'."
Not content with petitions and organizing, Sheppard created the Prohibitionist, a national temperance magazine that also promoted women's right to vote. A petition for women's suffrage was delivered to Parliament in 1893 with 32,000 signature, many of them men's.
That same year, Parliament voted to give women the vote. Prime Minister Richard Seddon wrote a personal telegram to Sheppard, congratulating her on her efforts. Lord Glasgow, the Governor-General, gave Sheppard the pen with which he, as the English Queen's representative in New Zealand, had signed the women's suffrage bill into law.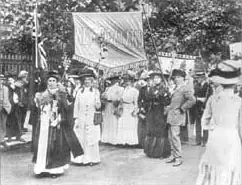 Sheppard went back to England the following year, along with her husband, to breathe life into the British women's suffrage movement. After a couple of years, she returned to New Zealand, where she helped organize the National Council of Women. She served as president for three years and led the movement against a separate Parliament for women, an idea that had gained support while Sheppard was away in England. This was part of an overall campaign to provide for women to serve as Members of Parliament.
In 1895, Sheppard and the WCTU began publishing a newspaper, the White Ribbon. It was the only paper at the time to be owned and produced entirely by women. Sheppard wrote many of the articles herself.
After a strenuous few dozen years in political activity, Sheppard left New Zealand again, in 1903, to join her husband, who had retired.
Sheppard didn't exactly retire, however, traveling extensively throughout England, Canada, and the United States, helping fire up support for women's suffrage in those countries.
In 1904, Sheppard and her husband returned to New Zealand. Sheppard did not return to public political life but did serve as an advisor for the White Ribbon, which was still growing strong. She was elected honorary vice-president of the International Council of Women in 1909, although she was too ill to attend. (The council was in Toronto, Canada.)
Douglas Sheppard, son of Kate and Walter, died in 1910. Kate and Walter returned to England, where Walter died in 1915. Kate herself came back to New Zealand, where she remarried, at age 78. Her second husband, William Sidney Lovell-Smith, died four years later. Kate's grandchild, Margaret Sheppard, died in 1930. Kate herself died in 1934, at 86.
Even though her name at death was Kate Lovell-Smith, she is more commonly referred to as Kate Sheppard. She was the recipient posthumous honors around the country, including appearing on a postage stamp and being the only woman to appear on the national currency. (She is on the $10 bill.) Buildings, streets, and neighborhoods throughout New Zealand are named for her.