---
Charles IV: King of Germany, Holy Roman Emperor
Share This Page

---
Follow This Site


---
Charles IV was King of Germany and Holy Roman Emperor for more than three decades in the mid-14th Century.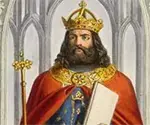 He was born on May 14, 1316, in Prague. His father was King John of Bohemia, who was also Count of Luxembourg. His mother was Queen Elizabeth of Bohemia. John and Elizabeth named their son Wenceslaus at birth, after his maternal grandfather, King Wenceslaus II. The boy honored his uncle, France's King Charles IV, by taking his name at confirmation. The younger Charles resided at the elder Charles's court for a time, learning a great many things, including languages. He could read and speak fluently Czech, French, German, Italian, and Latin.
When Charles was a teen, he went with his father to Italy, to keep the peace. Son took over more and more responsibilities for father, and Charles gained the title of heir apparent to the Bohemian crown in 1334.
The Holy Roman Emperor at the time was Louis IV. He had struggled mightily against a cousin, Frederick the Fair, for control of both Germany and the Holy Roman Empire. The two eventually agreed to a treaty that saw Frederick rule Germany and Louis rule the Empire. Frederick died in 1330, and Louis assumed full control. Several years later, he embarked on a spate of territorial acquisitions that angered many of Germany's most powerful nobles. They banded together and, in 1346, named their own King of the Romans (Germany), declaring that Charles was their ruler.
As had been the case with a handful of previous rulers, Charles owed his status and power to others, including Pope Clement VI. Still, enough nobles resented Emperor Louis IV and his machinations that Charles had enough support to stage a revolt. Louis had allied himself with England's King Edward III, who had invaded France in 1346 during the Hundred Years War. Charles allied himself with the French king, King Philip VI and took part in the fighting at the Battle of Crécy, a devastating English victory that killed untold numbers of French soldiers, including Charles's father. Charles himself escaped with a wounding.
Louis IV died in 1347. As the most powerful claimant still standing, Charles was the choice of the electors. He was crowned King of the Romans on July 25, 1349. He ruled from Prague and then, in 1354, crossed the Alps and entered Italy, without an army. His welcome was complete when he gained the Lombard crown and the title of Holy Roman Emperor, the coronation of the latter coming in April 1355. He stayed a short while, then returned to Prague.
Charles fought off challenges to his authority and, as a result, gained more territory, taking Brandenburg and a large part of Silesia. He returned to Italy in 1368, staying a year before returning. He convinced the electors to name his son Wenceslaus King of the Romans in 1376. Two years later, he died, on November 29, in Prague.
Charles had married Blanche of Valois in 1329. She died in 1348. Charles married Anne of Bavaria in 1349; she died four years later, and then Charles in the same year married Anna von Schweidnitz. His third wife died in 1362, and the following year he married Elizabeth of Pomerania. From the four marriages, Charles had six children who lived into adulthood: Catherine (1342), Wenceslaus (1361), Anne (1366), Sigismund (1368), John (1370), and Margaret (1373).