---
Queen Elizabeth II of the United Kingdom
Share This Page

---
Follow This Site


---
Part 1: Heir in Waiting
Queen Elizabeth II was the longest-reigning monarch in the history of the United Kingdom and of its predecessors. She served as queen for 70 years, 7 months, and 2 days.
She was born on April 21, 1926, in Mayfair. She was oldest child of the future King George VI, who was then the Duke of York. His wife, then the Duchess of York, was also named Elizabeth. The reigning monarch at the time of the younger Elizabeth's birth was King George V.
Elizabeth was close to her sister Margaret, born four years later. Like many royal and otherwise upper-class children, they had an education at home, primarily from the nanny Marion Crawford. Elizabeth learned French and enjoyed studying art and music. When her father became king in 1936, she added law and constitutional history to her subjects of study. A good rider, she was even better at swimming, winning a competition when she was 13. She was also a Girl Guide and a Sea Ranger. It was in her childhood that she developed an affinity for Pembroke Welsh corgis; she has had a number of the dogs around her ever since.
During World War II, her mother and father were very visible and very supportive of the British people, visiting hospitals and troops in the field and standing strong as a symbol of what they wanted the people at large to do as well. Elizabeth made a series of radio broadcasts intended to help raise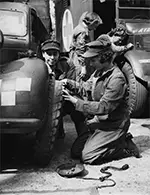 morale. When she was 14, she had this to say: "I can truthfully say to you all that we children at home are full of cheerfulness and courage. We are trying to do all we can to help our gallant sailors, soldiers, and airmen and we are trying too to bear our own share of the danger and sadness of war."
Elizabeth and Margaret stayed for a large part of the war at Windsor Castle, although Elizabeth, as the heir to the throne, sometimes accompanied her father in public appearances. As well, "Lillibet," as her father and other family members called her, rose to the rank of honorary colonel in the 500 Grenadier Guards in 1942 and joined the Privy Council in 1944; in the latter capacity, she acted on behalf of the king when he was out of the country. Also during the war, Elizabeth joined the Auxiliary Territorial Service and learned how to drive and how to be a mechanic.
| | |
| --- | --- |
| | |
Elizabeth had met her future husband when she was just 8 (and he was 13). In 1934, she and Philip Mountbatten, who later served in the Royal Navy, attended the wedding of Princess Marina of Greece, who was Philip's cousin, and the Duke of Kent, who was Elizabeth's uncle. The young couple corresponded during World War II and then saw each other more often after the war ended. They were married themselves on Nov. 20, 1947, at Westminster Abbey. Notably, Elizabeth collected clothing coupons to pay for her wedding dress, just as other women did in the austere days following the end of the war.
Elizabeth and Philip's first child was Charles, born in 1948. Two years later, Anne was born. They had two more children, Andrew in 1960 and Edward in 1964.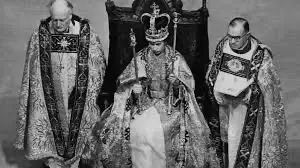 In 1951, Elizabeth was more and more acting in her capacity as her father's official representative because of his failing health. Elizabeth and Philip were on a tour of Australia and New Zealand when her died. They got the news while they were in Kenya on a stopover. George VI died on Feb. 6, 1952; on that day, Lillibet, age 27, became Queen Elizabeth II. Her coronation, the first ever televised, occurred on June 2, 1953, at Westminster Abbey.
Next page > On the Throne > Page 1 2