---
King George II of Great Britain and Ireland
Share This Page

---
Follow This Site


---
Part 1: King-in-waiting
George II was King of Great Britain and Ireland for 33 years during the turbulent 18th Century.

He was born on Oct. 30, 1683, at Schloss Herrenhausen, Hanover. His father was also named George, and his mother was named Sophia Dorothea. Two years after George was born, his parents had another child, who was named after her mother.
George began his education at an early age, learning English and German and Italian, in addition to genealogy and military history.
George's parents divorced in 1694, and his mother was sent to the Castle of Ahlden to live effectively in prison. George probably did not see his mother again.
George's grandfather was the Elector of Hanover. When he died in 1698, George's father assumed that position. Two years later, England underwent a succession crisis of sorts when the only surviving son of that country's heir apparent, Anne, died. In 1701, the Government of England enacted the Act of Settlement, which stipulated that Anne would be succeeded on the throne by her closest living Protestant relative, which was Sophia, George's grandmother, who was also , the daughter of Elizabeth Stuart and the granddaughter of England's King James I. A great many in England and Scotland did not want a person of the Catholic faith on the throne and were willing to accept someone of Continental birth (since the Act of Settlement referred to Sophia's heirs as well and her children were born in Germany). Anne wasn't queen in 1701, but she become so the following year when King William III died.
In 1705, George and his sister and his parents were made British subjects. In that same year, George met Caroline of Ansbach. He disguised himself so that she wouldn't know his status. They liked each other very much and were married later that year, at Herrenhausen, in Hanover. She was known as Caroline; her full name was Wilhelmina Charlotte Caroline.
Their first child, Frederick Louis, was born in 1707. That same year, Caroline contracted smallpox. George refused to leave her and caught smallpox himself. They both survived.
The War of the Spanish Succession was raging in Europe, and George joined the army, fighting at one of the decisive battles of the war, the Battle of Oudenaarde, a victory for the coalition of Austria, the Dutch Republic, and Great Britain, allied against France. The British commander, the Duke of Marlborough, complimented George for his valor during the battle.
George and Caroline had three more children, all daughters: Anne (born 1709), Amelia (born 1711), and Caroline (born 1713).
In 1714, Queen Anne died. Sophia of Hanover, young George's grandmother, had died a few months before Anne did, so George's father became King George I. Young George sailed with his father to England in September, and father named son Prince of Wales and Earl of Chester. Young George's wife and daughters joined him in England in October, the month in which King George I was crowned; their son, Frederick, remained in Hanover.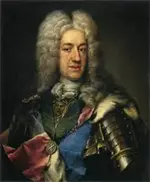 James Stuart, later known as the "Old Pretender," still had many powerful allies in England and Scotland. In 1715, a number of these people, led by the Scottish nobleman Lord Mar, declared their case to have the realm ruled by King James III and resorted to violence to press their case. The Duke of Argyll led the king's defense. A couple of English victories later, the first Jacobite uprising was in trouble. James arrived from exile in France but didn't make much of a difference in pursuing his fortunes and returned to France the following year. English forces had prevailed at Sheriffmuir, effectively ending the rebellion. (A small Scottish incursion into northern England amounted to little and ended in defeat at Preston.) Meanwhile, King George's government had arrested the leaders of the rebellion and sentenced them to death, after being convicted at trial of treason. The 1717 Indemnity Act issued pardons for most of the rebellion leaders; an exception was Clan Gregor, one of whom was Rob Roy MacGregor.
The year 1717 was one of highs and lows for the Prince of Wales. He and Caroline welcome another son, George, into the world in November. However, Prince George quarreled with his father over the man that the king had named as a godparent for the baby boy, and a rift developed between them that, for the most part, lasted the rest of the king's life.
British forces were involved in yet another war, the War of the Quadruple Alliance, against Spain. In 1719, Spanish troops landed in northern England in an attempt to once again put a Stuart descendant on the throne. Again, British troops were victorious.
The following year, Prince George and his father and several hundred other people lost a great deal money in the South Sea Bubble, a stock price share crash that also resulted in the removal of a number of the King's cabinet. It was Robert Walpole, the new First Minister, who urged the king and the Prince of Wales to reconcile.
George and Caroline had three more children during the next few years: William (born in 1721), Mary (born in 1723), and Louisa (born in 1724). Caroline continued to be a strong influence on her husband, championing the cause of Walpole and his policies and supporters.
Next page > On the Throne > Page 1 2