---
King Charles III of the United Kingdom
Share This Page

---
Follow This Site


Charles III is the current monarch of the United Kingdom. He ascended to the throne in September 2022, becoming, at 73, the oldest person ever to first sit on the throne.
He was born on Nov. 14, 1948, in Buckingham Palace. His father was Philip Mountbatten, and his mother was Elizabeth, later Queen Elizabeth II. When Charles was born, the reigning monarch was Elizabeth's father, King George VI.
For his early education, Charles learned from private tutors at Buckingham Palace. When he was 8, he went to Hill House School; two years later, he moved to Cheam Preparatory School; both of those schools are in England. In 1962, he moved to Gordonstoun School in Scotland. He also was an exchange student in Victoria, Australia, for a time.
Charles enrolled at Trinity College, Cambridge, in 1967. He studied archaeology and anthropology and later history. He earned his bachelor's degree in 1970 and his master's degree in 1975.
Charles was his parents' firstborn son and so immediately became next in line to the throne. However, he was not named Prince of Wales (and heir) until 1958, a handful of years after his mother became queen, and not crowned as such until 1969. He gave his first public speech five years later.
While studying for his master's degree, Charles entered the Royal Air Force and then the Royal Navy. He served for five years, training as a helicopter pilot and sailing aboard a guarded missile destroyer. He also participated in parachute training.
Charles had met Diana Spencer earlier in his life. They met again in the late 1970s, became closer, and got engaged in February 1981. They got married on July 29, 1981, in a lavish ceremony televised all over the world.
The couple had two children: William, born in 1982, and Henry "Harry", born in 1984. The entire family was very much in the public eye for the courtship, marriage, and birth of the children. Despite having what many outside observers viewed as a fairy tale marriage, Charles and Diana grew apart and sought solace in other people. They separated in 1992 and divorced in 1996. Diana died in a car crash in 1997, in Paris. Charles traveled to France and accompanied her body back to England; he and his sons walked together at her funeral procession.
Charles married again, in 2005, to Camilla Parker Bowles, cementing a relationship that had begun years earlier. She is now Queen Consort.
Both of Charles's children have had children of their own. William married Kate Middleton in 2011, and the couple have had three children: George (2013), Charlotte (2015), and Louis (2018). Harry married Meghan Markle in 2018, and the couple have had two children: Archie (2019) and Lillibet (2021).
Charles is no stranger to performing official royal duties, having already officiated at hundreds of events on behalf of his mother and in his capacity as Prince of Wales. He was the royal representative in many other countries, including at the handover ceremony of Hong Kong to China in 1997.
Since his early years, Charles has embraced charitable activity and giving, lending his support to hundreds of charities. He recently was the first U.K. patron of the International Rescue Committee, a charity that helps refugees displaced by wars or natural disasters.
One of his most passionate projects has been to champion protection of the environment. He has embraced organic farming and has been an outspoken critic of activities that have led to global warming. In 2007, he launched the Prince's Rainforest Project, a worldwide program to stem the tide of tropical deforestation. He also, in 2021, launched Terra Carta, an initiative to encourage sustainable finance among the world's leading economies.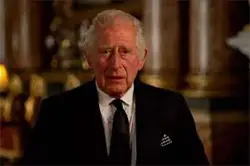 A student of architecture, he has publicly called for sustainable design in building. His book A Vision of Britain: A Personal View of Architecture led to a 1980s BBC documentary of the same name. He also lent much time and effort to the building of the village of Poundbury, an experimental planned community near Dorchester, in Dorset. One of his charities, the Prince's Foundation for the Built Environment, has helped rebuild and redesign historic buildings in areas such Port-au-Prince, Haiti, after a devastating earthquake in 2010.
Charles is president or patron of dozens of performing arts organizations, notably the Royal Opera, the Royal College of Music, the English Chamber Orchestra, the Welsh National Opera, and the Royal Shakespeare Company. An artist himself, Charles has crafted many watercolors, exhibiting them and selling them in order to raise money for the charities he sponsors.
Charles is also a published author, having written a handful of other books, including The Old Man of Lochnager, a children's story published in 1980, and Harmony: A New Way of Looking at Our World, published in 2010.
Charles played football at school, but his real athletic interest was in playing polo. He played competitively for a great many years, including for charity, retiring in 2005. Another of his outdoor pursuits is fishing.