---
Wyatt Earp: Famed Lawman of the American West
Part 2: Gunfight and Boomtowns
Despite this null result, Earp was named Deputy Sheriff for Pima County, with jurisdiction over the eastern part of the county. He was in Tombstone now and again and, on October 28, 1880, helped town marshal Fred White break up a fight at a saloon; in the fracas, Curly Bill Brocius, one of the Cowboys, accidentally shot White, who died a few days later. Earp had treated Brocius very roughly in the fight, and Brocius swore enmity toward Earp, on behalf of himself and of the other Cowboys.
At this time, the most well-known of the Cowboys were Ike and Billy Clanton, whose father Newman Clayton owned a large ranch that regularly seemed to have a very large number of cattle on it, and the aforementioned Frank McLaury and his brother, Tom. Wyatt Earp made several offers of reward money to Ike Clayton and other Cowboys, in exchange for information on the whereabouts of various members of the gang; all were refused.
As the year 1881 began, the Arizona Territory created the county of Cochise, out of the eastern part of Pima County. Earp had been deputy sheriff with jurisdiction over this part of Pima County, but another man, Johnny Behan, was named Sheriff of the newly formed Cochise County.
Earp then went into business at Tombstone's Oriental Saloon, as a manager and bouncer. He invited other friends, including the well-known lawman Bat Masterson, to join him. Doc Holliday was also in Tombstone at this time, as was Wyatt's older brother, Virgil.
Tensions increased between the Earps and the Cowboys as the year of 1881 progressed. In March, the Earps and others were on the trail of a group of Cowboys who had robbed a stagecoach of a large amount of silver. That pursuit was unsuccessful, and the silver was not recovered; but the culprits were killed during subsequent robberies.
Another stagecoach robbery, in September, was carried out by Cowboys, including Pete Spence and Frank Stilwell. Sheriff Behan and Virgil and Wyatt Earp were among the group of men who arrested Spence and Stilwell, charging them with the relatively new federal crime of interfering with a mail carrier. This charge was applied after their second arrest in as many months; they had posted bail after their first arrest and were awaiting hearing on those charges when they pulled off the second robbery.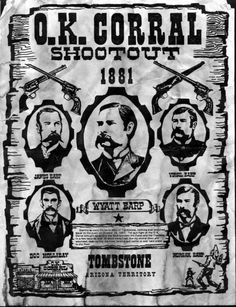 The arrests did not sit well with the Cowboys, who made it known that a confrontation would be imminent if any more arrests of Cowboys took place. No more arrests took place, but tempers still boiled over on the afternoon of October 26, 1881, at the Gunfight at O.K. Corral.
Frank and Tom McLaury and another Cowboy, Billy Clanton, died in the shootout; Holliday was wounded but survived. Ike Clanton and another Cowboy, Billy Claiborne, fled the scene, unscathed.
Alone unharmed when the dust settled was Wyatt Earp. This naturally enhanced his status as a successful lawman.
Ike Clanton charged the Earps and Holliday with murder after the Gunfight, and many people testified before a federal judge. The resulting verdict was not guilty, and the Cowboys vowed revenge.
In February 1882, Cowboys killed Morgan Earp and narrowly missed killing Wyatt. Holliday and Wyatt then resolved to take the law into their hands. (Holliday was only ever a temporary marshal, and Wyatt Earp had resigned his sheriff's commission after the Gunfight.) James and Warren Earp joined Wyatt and Doc Holliday, along with a few other men, and they tracked Cowboy Frank Stilwell to Tucson, where Wyatt killed him.
The result was indictments for murder, and Wyatt and company were on the run; leading the chase was Sheriff Johnny Behan. After a few shootouts, the Earp clan escaped Arizona altogether, never to return; the desire to chase them waned as well.
The Earps went to Albuquerque and then to Trinidad, Colorado. Wyatt moved on to Gunnison, where he stayed for a time. Earp and Holliday had had a falling out in Albuquerque, but the two old friends managed one last reunion before Holliday died of tuberculosis.
Wyatt Earp went in 1883 to San Francisco, where he stayed for a few months, then went back to Colorado, to Silverton, near a collection of gold and silver mines. He also had a new wife, Josephine, at this time. She went with him from place to place, from opportunity to opportunity, for the next 40 years.
The following year, 1884, the Earps were on the move again, this time to Eagle City, Idaho, another boomtown, this one near lodes of gold, silver, and lead. Earp was named deputy sheriff in the area.
When the Idaho mines dried up, Earp moved again, this time to San Diego, to chase a real estate boom that had sprung up in the wake of railroad construction there. In San Diego, Earp was once again a saloon owner, as well as the owner of gambling halls. He also found work as a referee at boxing matches in the San Diego area.
Earp found an interest in owning and racing horses and moved in 1891 to the San Francisco area. He stayed there for awhile but found the Alaska Gold Rush irresistible and moved to Dawson, where he again owned saloons.
A silver rush in Tonopah, Nevada, was the next destination for Earp, in 1902; after that silver supply waned, Earp moved on to Goldfield, Nevada, and a reunion with his brother Virgil.
Discovery of gold and copper deposits in the Sonoran Desert lured Earp to California in 1906. He filed many mining claims and lived in Los Angeles.
In 1910, Earp got a job with the Los Angeles Police Department. After that job, Earp found work as a consultant to film studios; he was a frequent visitor to film sets of the famous Western film director John Ford.
Earp was 80 when he died, in 1929.
A biography, Wyatt Earp: Frontier Marshall, appeared in 1931. Written by Stuart Lake, this book portrayed Earp as an American Southwest superhero. Later examination of the facts, coupled with the author's admission that he had fabricated many of the quotes, proved the book to be largely fictional. The stories in the book, however, coupled with two high-profile movie versions of the Gunfight at O.K. Corral, gave rise to an image of Wyatt Earp that has not diminished: that of a tough defendant of law and order.