Rosa Parks: Civil Rights Pioneer
---
Part 2: Later Life and Fame
One of the main results of Rosa's arrest and conviction was the attention the events involving her got from around the country.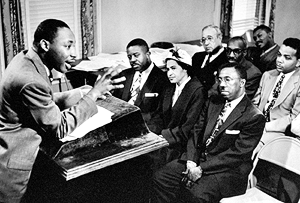 Martin Luther King, Jr., a minister from Atlanta and a strong civil rights leader, came to Montgomery and joined what would become a very successful boycott of the city buses. African-Americans were encouraged not to ride the city buses; instead, they walked or rode bicycles or carpooled or found some other way to get around the city. The boycott cost the city lots of money, since African-Americans made up 75 percent of the passengers who traveled on the city buses. Businesses downtown began to lose money as well, since African-Americans chose to shop closer to home. The boycott also got national attention and led to other civil rights protests. This bus boycott lasted 381 days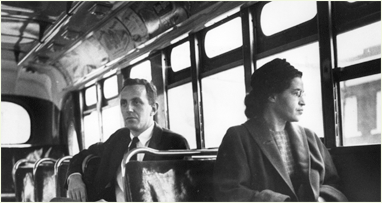 and even got the Supreme Court's attention. The Court ruled in 1956 that segregation (separation based on race) on city buses was unconstitutional. One of the first things Rosa Parks did after this ruling was get on a Montgomery city bus. She sat right up front.
Rosa Parks by this time was a very famous person. She worked tirelessly to promote the cause of civil rights. In the early 1960s, she moved to Detroit and eventually worked on the staff of John Conyers, who represented Michigan in the House of Representatives. She worked for him from 1965 to 1988, when she retired from public life altogether.
In 1999, she received the Congressional Gold Medal. This award is given by Congress to "any individual who performs an outstanding deed or act of service to the security, prosperity, and national interest of the United States of America." It is considered the Legislative Branch equivalent of the Presidential Medal of Freedom.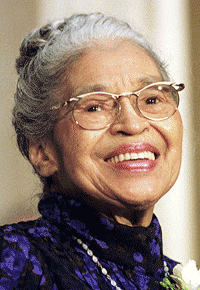 In 2001, the city of Montgomery opened the Rosa Parks Library and Museum, which traces her story and its place in the struggle for equality. The museum is on the same spot where Rosa was arrested in 1955.
She died in 2005. She was the first woman ever to lie in state at the U.S. Capitol. A statue of her will soon appear in the Capitol. She continues to be an inspiration for people everywhere.
First page > Her Early Life > Page 1, 2