Presidential Pets
---
American Presidents throughout the history of the country have had pets. This goes all the way back to George Washington, who owned several dogs, a donkey, and a horse.
Dogs and cats have been familiar as presidential pets. Horses and birds have also been common.
Some of the more exotic pets include:
Theodore Roosevelt, a lover of animals who nonetheless managed to go on several big game hunts, owned the most pets, including dogs, cats, snakes, a pony, a pig, a badger, a rat, some guinea pigs, a hen, and a rooster.
Some of the more famous presidential pets include:
Fala, Franklin Delano Roosevelt's dog, who figured in a speech in which Roosevelt laughed off charges by some people that he had sent back a Navy warship just to get Fala, who he had left behind during a wartime tour of the American defenses of Alaska.
---
Liberty, Gerald Ford's dog, who gave birth to a puppy in the White House and who Ford would often encourage to nuzzle against him, ending a perhaps unpleasant conversation.
---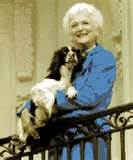 Millie, the pet dog of George Bush (Sr.). Millie was very much in the public eye, travelling often with First Lady Barbara Bush. Millie is also listed as the author of the book Millie's Book: As Dictated to Barbara Bush.
---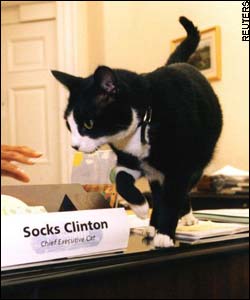 Socks, the pet cat of Bill Clinton. Socks was adopted by Clinton's daughter, Chelsea, a year before Clinton was elected, and the cat moved to the White House with its family. Socks was mentioned in many news stories during the 1990s.
Search This Site
Custom Search