President Obama's Inauguration
---
Barack Obama became the 44th President of the United States on January 20, 2009, in a ceremony that ended four days of celebrations, including a concert at the Lincoln Memorial attended by 400,000 people.

The day before the inauguration was Martin Luther King, Jr. Day, a federal holiday honoring the famed civil rights leader. Celebration of this day was especially poignant for Obama, the first African-American President.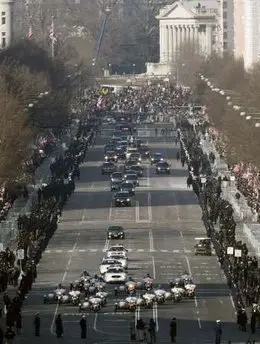 On the day, Obama and Vice-president Joe Biden attended a private church service at St. John's Episcopal Church, a tradition for those about to become President and Vice-president. Obama and his wife, Michelle, had early-morning coffee with outgoing President George W. Bush and his wife, Laura, at the White House. Then, it was off to the inauguration.
Rev. Rick Warren gave the invocation, poet Elizabeth Alexander read a poem, Aretha Franklin sang, noted cellist Yo-Yo Ma played, Rev. Dr. Joseph Lowery gave the benediction, and the U.S. Navy Band played the National Anthem.
Among the featured guests for the inauguration were the following:
the Tuskegee Airmen, a group of African-American aviators who flew with distinction as the 332nd Fighting Group of the U.S. Army Air Corps;
Chesley Sullenberger and the rest of the crew of US Airways Flight 1549, which set down in New York's Hudson River recently, surviving a collision with a flock of birds by landing in the river and saving all 150 people onboard;
a group of relatives of Obama's father from Kogelo, Kenya.
Security was extremely tight, with more than 25,000 people making up the security detail. Attendance was at an all-time high, with more than two million packing the nation's capital to see the historic events.
Supreme Justice John Paul Stevens administered the Vice-presidential oath of office to Joe Biden. Then, it was Obama's turn.
Chief Justice John Roberts administered the Oath of Office. Obama said the words while his hand was on the Bible that Lincoln had used, in 1861. Then, Obama gave his inaugural address.
Search This Site
Custom Search