Neil Armstrong's Near-death Experience in Space
---
The journey in which Neil Armstrong took "one giant leap for mankind" was his second trip into space. He almost didn't make that trip, having narrowly averted death in his first journey outside Earth's orbit.
In 1966, Armstrong was commander of the Gemini 8 mission. The objectives of this, the sixth manned spaceflight mission by NASA, were to complete an in-orbit rendezvous and docking and then an extra-vehicular activity. Gemini 8 did, in fact, complete the target rendezvous, docking with an unmanned Agena spacecraft on March 16, 1966. But the extra-vehicular activity would have to wait.
In a precursor to the Apollo 13 situation, Armstrong and David Scott were aboard Gemini 8 when a thruster malfunctioned, causing the mission to be aborted. Scientists had suspected that the Agena spacecraft had a problem, but it was, in fact, the Gemini 8 that encountered difficulty. One of the thrusters got stuck in the On position. If they couldn't shut the thruster off, Armstrong and Scott would be in danger of suffering from impaired vision and even loss of consciousness because of the violent roll. The astronauts disengaged the Gemini spacecraft from the Agena and headed for home.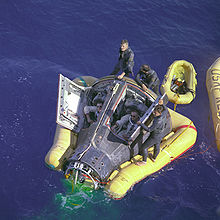 Armstrong and Scott made an early return (by three days sooner than the original date) and at a secondary landing site, in the Pacific Ocean, 600 miles south of Yokosuka, Japan. As a result, most of the re-entry occurred over Asia, meaning that NASA tracking stations couldn't follow.
Gemini 8 landed safely in the ocean, however, and Armstrong and Scott returned to duties at NASA.
As a result of the incident, NASA reviewed and updated its Million Failure Investigation Policy and Procedures, which were invoked in 1970 during the Apollo 13 mission.