Mae Jemison: Pioneering Astronaut and Scientist
---
Mae Jemison was the first African-American woman to become an astronaut and the first African-american woman in space. She is a pioneer to this day.

Jemison was born on October 17, 1956, in Decatur, Alabama. She was the youngest of three children; her parents were a maintenance worker and a schoolteacher. She grew up in Chicago and attended college (beginning when she was 17) at Stanford University, from which she graduated in 1977 with degrees in Chemical Engineering and African-American Studies. A mere four years later, she received her Doctor of Medicine degree from Cornell University.

Wanting to help where the need was severe, Jemison volunteered for the Peace Corps and served in Liberia and Sierra Leone. She was in charge of the medical staff, including the laboratory and pharmacy; and she wrote medical guidelines and manuals while also working with the Center for Disease Control to research vaccines.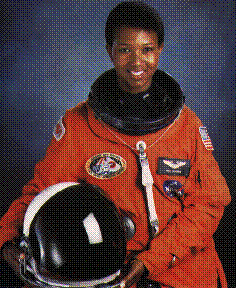 Jemison returned to the U.S. in 1985 to take a job as a doctor with CIGNA Health Plans of California, in Los Angeles. While in L.A., she began taking classes toward a graduate degree in engineering. At about the same time, she applied to NASA to become an astronaut. She was turned down but applied again; and in 1987, she became one of 15 astronauts selected from a group of 2,000.
Jemison successfully completed her astronaut training in August 1988 and worked her way up the ladder, achieving her goal of flying in space four years later, on the SPACELAB J mission that involved both American and Japanese astronauts. Her title was Mission Specialist, and she conducted several experiments onboard.
Jemison resigned from NASA the following year but continues to work in related fields.