---
John Philip Sousa: America's King of the March

Share This Page

---
Follow This Site



John Philip Sousa is one of American music's most well-known figures, primarily for his association with the U.S. Marine Band and with the writing and performing of marches.
Sousa was born in Washington, D.C., in 1854, near the Marine barracks where his father was stationed. Antonio Sousa was a trombonist in the Marine Band. Young John went to school in Washington and also attended a private music conservatory, excelling at the playing of several instruments and preferring the piano and, most of all, the violin.
The impressionable Sousa wanted to join a circus band, but his father convinced him to be an apprentice musician in the Marine Band instead, and Sousa was a member of that band until he was 20. During this time, he also studied music theory and composition with a local music teacher and orchestra leader named George Benkert.
Sousa earned his discharge from the Marines and then toured with a few theater orchestras before settling in Philadelphia, in 1876, to work in publishing houses in the areas of music composition, arrangement, and proofreading. He rejoined the Marine Band, at the band's request, as the leader on October 1, 1880.
Sousa proved a strict band leader, requiring his musicians to practice for many hours on a strict schedule. The result was a Marine Band that performed with finely tuned precision.
Sousa had married Jane Bellis in 1879, and the couple eventually had three children. Sousa was also an accomplished trapshooter; he has been named to the Trapshooting Hall of Fame. He also wrote novels.
Sousa gained fame for a march he wrote in 1886 called "The Gladiator." He gained everlasting fame two years later when he unveiled his composition "Semper Fidelis," which has come to be known as the official march of the Marine Corps.
The Washington Post sponsored a newspaper essay contest, and Sousa wrote the same-named march as the contest's theme music. The "Washington Post" became a huge hit as well.
Near the end of the 19th Century, the Marine Band utilized the recent invention of the phonograph to record their music. Within a few years, hundreds of recordings of the band's music were available. The Marine Band's popularity rose even more.
Sousa won presidential permission in 1891 to take the band on tour. They went around the country and then followed that up with another tour the following year. In 1892, Sousa left the Marine Band to become head of his own civilian band. At his last concert as Leader of the Marine Band, Sousa got an engraved baton; Sousa's daughters returned that baton to the band in 1953, and the band's leader now wields that baton as a token of respect of respect for Sousa and his legacy.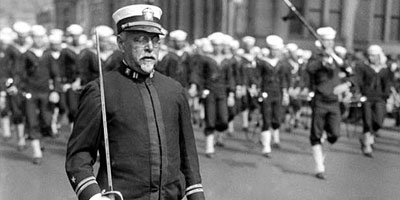 Sousa led his own band through 39 years of musical briilliance, cementing his legacy as one of American music's all-time greats. He died in 1932; his body lay in state at the D.C. Marine barracks; Sousa was buried in Congressional Cemetery.
Throughout his lifetime, John Philip Sousa composed music. His compositions were primarliy marches, but he wrote other kinds of music as well, including opera and classical. His march "The Stars and Stripes Forever" has been America's national march since 1987. His name lives on in the names of buildings, public places, and even a warship.
He is also known as the designer of the sousaphone, a tuba refitted so that it is easier for marchers to carry.
Some of his other famous marches are "El Capitan," "The Liberty Bell," and "The Salvation Army."