---
John Jacob Astor: Business Mogul, Richest American
Share This Page

---
Follow This Site


John Jacob Astor was a well-known fur trader and a very successful businessman who was America's wealthiest citizen in the first half of the 19th Century.
Astor was born on July 17, 1763, in Waldorf, Germany. He had two older brothers, Henry and George, who both left their home country in order to conduct business abroad. Young John worked in the family dairy business for a time and then joined his brother George in London. When he was 20, he traveled to New York, in part to act as his brother's agent for selling musical instruments in the U.S. but also to find out more about America's burgeoning North American fur trade, which he heard about on the way across the Atlantic. (The ship he was on got stuck in the ice, and the passengers had to wait two months before moving again.) He opened his own business within two years of arriving. Also in New York was John's other older brother, Henry, who was a butcher. John worked with him for a time as well and also worked as a baker. He married Sarah Todd in 1785.
John established a good relationship with local Native Americans and signed on to export furs for a large Canadian trader, in the first of several alliances that led to his eventually becoming one of the richest men in America. As the 19th Century dawned, he was expanding, adding trade routes to China and to countries in Europe. A dispute with Great Britain led to the 1807 Embargo Act, and European ports were suddenly not ideal destinations for American ships. Astor looked west.
He approached the governor of New York, De Witt Clinton, and then President Thomas Jefferson and got support for his idea of establishing a fur company in the Pacific Northwest. After a rejection to an overture in Montreal to buy the Great Lakes-focused Michilimackinac Company, he set about making his own way.
In 1809, he got a charter for what he called the American Fur Company. Subsequent subsidiaries included the Pacific Fur Company. He also set about establishing good relations with Russian traders in the Pacific Northwest. Astor's ship Tonquin left new York in 1810, sailed around the southern tip of South America, stopped off in Hawaii in February 1811, and then arrived at the mouth of the Columbia River in March. The result was the construction of Fort Astoria, in what was then the Oregon Country. Another expedition, led by Wilson Price Hunt, arrived in February 1812, after traveling by land.
Success was short-lived, as British troops occupied the fort during the War of 1812. (Britain would keep this fort after the war, renaming it Fort George.) Astor suffered through the end of the war, then petitioned Congress to protect American trade throughout the Pacific Northwest. A series of similar bills resulted in the elimination of nearly all of Astor's competitors.
Astor entered the opium trade in 1816, becoming the first American to buy and sell the drug in China; he left that trade three years later.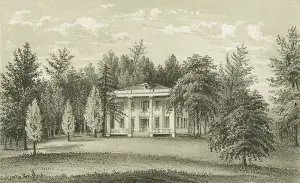 Astor returned to an early interest in real estate in 1807, when he bought a large amount of land from Aaron Burr, who had been arrested for treason in connection with a plot to establish a breakaway republic in the South. Astor subdivided the land many times over and sold them all. He made so much money from this that he eventually left the fur trading business, in the 1830s, in order to focus on New York real estate.
His wife, Sara, died in 1834. They had seven children.
Astor died on March 29, 1848; he was 84 and the wealthiest person in the country. One bequest he had stipulated set aside several thousand dollars to fund a free public library. The Astor Library eventually became part of the New York Public Library system.