John Glenn: 1st American to Orbit Earth

Share This Page

---
Follow This Site



John Glenn, on Feb. 20, 1962, became the first American to orbit Earth. He spent three orbits inside a tiny space capsule and returned safely home.
He was the third person to orbit Earth. Russian cosmonauts Yuri Gagarin (in April 1961 aboard Vostok 1) and Gherman Titov (in August 1961 aboard Vostok 2) preceded Glenn in space, as did Alan Shepard (in May 1961 aboard Freedom 7) and Gus Grissom (in July 1961 aboard Liberty Bell 7). It was Glenn, however, who circled the planet three times, reaching speeds of 17,000 miles an hour.
Glenn (a Marine), Grissom (Air Force), and Shepard (Navy) were part of the first group of American astronauts. The "Mercury Seven" also included Air Force captains Gordon Cooper and Deke Slayton and Navy captains Scott Carpenter and Wally Schirra.

All were graduates of test pilot school and met these requirements:
younger than 40
shorter than 5 feet 11 inches (in order to fit into the tiny space capsule)
have logged 1,500 hours or more of flying time
have a bachelor's degree in engineering.
Glenn, a U.S. Marine, was a top test pilot. In July 1957, he flew from Los Angeles to New York in 3 hours and 23 minutes, setting a transcontinental speed record.
Glenn was selected for the Mercury in 1959. He trained hard for three years and then got his chance to orbit Earth, in a space capsule that measured 9.5 feet by 6 feet.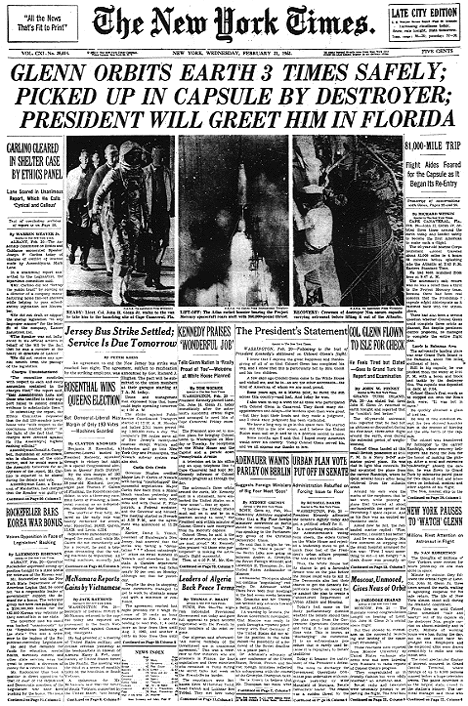 About 100,000 spectators were on hand for liftoff. Millions around the world listened to a live radio broadcast.
What he saw took his breath away. "I have the Cape in sight down there," he said during his flight. "It looks real fine from up here. I can see the whole state of Florida just laid out like on a map. Beautiful."
On that day in February, in the space capsule Friendship 7, he spent 4 hours and 56 minutes in space, travelling a total of 81,000 miles. His journey was not without incident. A malfunction near the end of his first orbit necessitated Glenn to fly the capsule manually for the final two orbits. As well, NASA controllers informed Glenn that their systems showed a loose heat shield on the capsule; this turned out to be a false alarm, but it created some nervous moments for Glenn and NASA.
He splashed down near Grand Turk Island in the Bahamas and became one of the most famous people alive. He went by helicopter to a waiting aircraft carrier and then flew again to Grand Turk Island, where he spent two days resting and undergoing tests and evaluations. His only injury occurred after he had splashed down, a few skinned knuckles that he got when he had to blow open a side hatch of the capsule because of a stuck bulkhead.
After that, he was the focus of a large ticker-tape parade in New York. Communities named schools and streets after him. He later served in Congress, representing his home state of Ohio in the Senate. And in 1995, he became, at 77, the oldest person to fly in space, flying aboard space shuttle Discovery and taking part in a study of the effects on seniors of spaceflight.