---
The Gunfight at O.K. Corral


Share This Page

---
Follow This Site



Part 1: Setting the Scene
The Gunfight at O.K. Corral lasted all of 30 seconds. It was, however, a landmark event in the American West.
The setting was Tombstone, a frontier town in the Arizona Territory, in 1881. (Arizona did not become a state until 1912.) The participants were two sets of tight-knit characters, one acknowledgeably on the wrong side of the law and the other straddling the line between upholding the law and breaking it.
The most famous person involved in the Gunfight was probably Wyatt Earp. He was, at the time of the Gunfight, a deputy U.S. Marshal in Cochise County, and the county seat of that county at that time was Tombstone. Wyatt had been a police officer in two Kansas towns, Dodge City and Wichita, and then a shotgun messenger for Wells Fargo, on several stagecoach runs.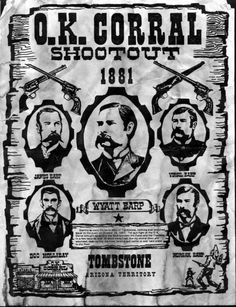 Wyatt's brother Virgil, a member of the Union Army during the Civil War, was a deputy U.S. Marshal for nearby Pima County. Virgil had offices in Tombstone and was named that town's Marshal in June 1881. He had been a police officer in Prescott, Ariz, and also had jobs as a night watchman and as a constable.
Also on hand in Tombstone and in other surrounding towns and areas were three other Earp brothers, James, Morgan, and Warren. These men had various roles and responsibilities enforcing the law; on the day of the Gunfight, they all sported badges.
The other member of the Earp "clan" was John Henry "Doc" Holliday, a former dentist who had moved to the American Southwest in 1880 in an attempt to ease his tuberculosis and who was, because of his friendship with Wyatt Earp, sporting a temporary deputy marshal on the day of the Gunfight.
Opposing the Earps and Holliday on that fateful day, October 26, 1881, were the Cowboys, as they had become known. (In those days, the term meant someone who operated outside the law, rustling of cattle or smuggling of alcohol or tobacco.)
In this group were Ike and Billy Clanton, Frank and Tom McLaury, and Billy Claiborne.
Tombstone was about 30 miles from the border with Mexico. The Arizona Territory had belonged to the U.S. since 1848, as a result of the Mexican Cession. Tombstone the town was founded in 1879, with a population of 100. Just two years later, after a nearby discover of a silver lode, Tombstone boasted a population exceeding 7,000 (and that was only American men because such figures at that time excluded women and children and residents of other countries).
The discovery of silver brought a large amount of mining infrastructure and a large amount of people; all of those people sought out the trappings of civilization, and so Tombstone in late 1881 had two banks, three newspapers, a school, four churches, an ice cream parlor, and several other businesses. As well, especially because of its frontier location, Tombstone had a large amount of saloons and gambling halls.
Such a large population and such a large amount of enterprise so close to the border with another country made it quite easy in some cases for stolen goods to make it in or out of Mexico, few questions asked. Smuggling proved quite profitable for many people, the Cowboys included.
And so it was that the Cowboys had had several run-ins with local law enforcement, and the Earps in particular, by the time of the Gunfight.
Next page > Conflict Turns Violent > Page 1, 2