Fred Haise: Former Astronaut and Space Shuttle Pilot
---

Share This Page

---
Follow This Site



Fred Haise was a former military pilot and astronaut who was meant to walk on the Moon but survived an explosion aboard Apollo 13 and made it home safely, later serving as test pilot for the space shuttle.
He was born on Nov. 14, 1933, in Biloxi, Miss. He grew up and attended school there, graduating from Biloxi High School in 1950 and Perkinston Junior College in 1952. At that school, he had earned an Associate of Arts degree and had decided on a career in journalism.
Haise joined the Naval Aviation Cadet training program and served as a Marine pilot, logging more than 9,300 hours of flying time by 1956. A return to education saw him earn a degree in aeronautical engineering from the University of Oklahoma in 1959 while doing duties as a fighter interceptor pilot with the state Air National Guard.
He joined NASA soon after it was formed, continuing his pilot duties in Air Force and the Air National Guard. In 1966, he was named to Astronaut Goup 5. He served as backup Lunar Module Pilot for both Apollo 8 and Apollo 11 and was then named to the primary crew of Apollo 13, again as Lunar Module Pilot.
Haise would have been the sixth person to walk on the Moon. His mission commander, Jim Lovell, was to be the fifth. Neither man reached the Moon because of the explosion that crippled the Apollo 13 Command Service Module and forced the crew to endure near-freezing temperatures and overcome seemingly impossible odds in order to return home safely. Haise, in particular, struggled with the stark conditions during the four days of shivering and spent much of that trip home in pain.
Haise remained in the astronaut program and was commander of the backup crew for Apollo 16. He was in line to command the Apollo 19 mission, but Apollo 17 turned out to be the last manned mission to the Moon.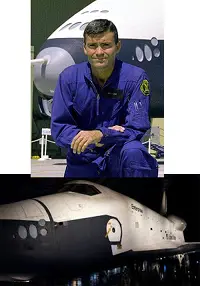 Moving to the new reusable spacecraft, the Space Shuttle, Haise joined the testing program for the prototype shuttle, Enterprise. He was the pilot on three test flights. Haise was in line to fly a shuttle to the Skylab space station, delivering a booster module, but delays in the shuttle program prevented that from happening. Haise left NASA in 1979, joining Grumman Aerospace Corporation, the company that had built the lunar module in which he flew. He continued as a test pilot and executive, retiring in 1996.