Frank Borman: Astronaut, Airline Executive
---

Share This Page

---
Follow This Site



Frank Borman is known as an astronaut, serving in both the Gemini and Apollo programs. He is most well-known for being commander on Apollo 8, the first American spacecraft to orbit the Moon.
Borman was born on March 14, 1928, in Gary, Ind. He found his calling when his father, Edwin, took him for a ride with a barnstorming pilot. Young Frank was 5 at the time.
His struggles with health problems in the cold, damp Indiana weather convinced the family to move to Arizona. Frank graduated from Tucson's Sam Hughes Elementary School, Mansfield Junior High, and Tucson High School. He was an honor student and a star athlete, excelling in baseball, football, and soccer.
He learned to fly (taking lessons from a female instructor, Bobbie Krolle) at 15 and attended West Point and then earned his Air Force wings, in 1951. His master's degree, from the California Institute of Technology, was in aeronautical engineering. He completed aerospace pilot school at Edwards Air Force Base in California and then was a test pilot and instructor there. In all, he logged more than 6,000 hours in the air.
Borman was one of the select few in 1962 chosen by the National Aeronautics and Space Administration to be in the astronaut program. He was the commander of Gemini 7, one of the two-man missions that were a precursor to the Apollo lunar landing program. Borman's Gemini crewmate on the 14-day mission was Jim Lovell.
He was the lone astronaut on the board of investigation following the fire that killed the three Apollo 1 astronauts and helped oversee the augmentation made to the spacecraft. He also testified to a Senate committee conducting its own investigation, helping convince Congress that NASA had the wherewithal to make future Apollo missions safe. Then, in the second manned mission to leave Earth, he was commander, of Apollo 8, with his crew William Anders and his Gemini counterpart Lovell.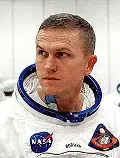 Among their primary tasks was to test the firing systems once they had achieved lunar orbit, simulating what an eventual lunar landing mission would do. They also tested the limits of communication and tracking systems. The Moon is more than 252,000 miles from Earth, and scientists did not know for sure whether they would be able to communicate or even track the spacecraft for that kind of distance. They were also to facilitate six live TV transmissions during the course of the mission.
Because the crew were orbiting the Moon on Christmas Eve, they were inspired to use one of their TV transmissions to read from the Biblical book of Genesis the story of Creation. All three astronauts took turns reading from the Bible, their words traveling through space and to listeners back on Earth.
The mission was not without incident. Borman was sick with both vomiting and diarrhea, and the entire crew struggled with random things floating in the zero-gravity close quarters of the spacecraft. He recovered quickly.
Borman stayed with NASA after his lunar mission, serving as liaison to the U.S. President during the Apollo 11 landing. He was with President Richard Nixon watching as Neil Armstrong took his first steps on the Moon and was still there when Nixon called Armstrong and Buzz Aldrin. (It was Borman who convinced Nixon to keep it short.) Borman also helped Nixon draft the speech that he would have given had Armstrong and Aldrin not been able to return home.
Leaving NASA, Borman first served as an ambassador to the President, in 1970 embarking on a worldwide tour designed to accelerate the release of prisoners of war in North Vietnam. Later that year he went to work for Eastern Airlines, as vice president of operations and then senior vice president of operations. It was in this capacity that he personally helped search for survivors of an Eastern plane that went down near the Everglades in Florida.
He worked his way up to executive vice president in 1974 and was named to the board of directors. He reached the top of the line in 1976 and was named chairman, president, and CEO.
Borman served in that capacity for a decade, overseeing some of the company's most profitable years ever, and retired, in 1986. Later in his retirement, he rebuilt and flew World War II and Korean War-era planes. He is a consultant.
He had married Susan Bugbee in 1950. They have two sons, Frederick and Edwin, and four grandchildren.