---
Babe Didrikson Zaharias: Excellence in Many Forms

Share This Page

---
Follow This Site



Part 2: Golf and History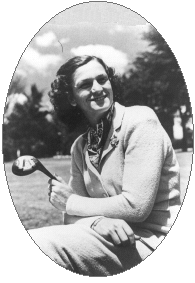 The dispute over her amateur status ended in 1943, and she began to play tournaments again. She was so far ahead in ability of other women of her time that she won 17 tournaments in a row during the next three to four years. She decided to become a professional again in 1947 and helped form the Ladies Professional Golf Assocation (which still exists today). Between 1949 and 1951, she won more money than any other woman golfer. The Associated Press, a national news organization, named her the Athlete of the Half Century in 1950. She was also named the Female Athlete of the Year six times, more than any other.
She continued to play golf but was slowed in 1953 by cancer surgery. She made a quick comeback, however, and won five tournaments in 1954. Her cancer returned, though, and she died of it on September 27, 1956. She was just 45.
During her relatively short lifetime, Babe Didrikson Zaharias made quite a name for herself as an athlete and as a woman. She helped people understand that women could be great athletes, too, especially in sports that were usually "reserved for men." She played just about every sport there was. She was once asked if there was anything she didn't play. Her response: "Yeah, dolls."
First page > Early Life and Success > Page 1, 2