---
The Women's Baseball League: Facts and Figures
More of this Feature
On This Site
Share This Page

---
Follow This Site


---
Part 1: Beginnings
Between 1943 and 1954, a total of 600 women got the chance to play professional baseball in America. This was the All-American Girls Professional Baseball League, which began with four teams but grew to double-digits membership.
The AAGPBL was the brainchild of Philip K. Wrigley, who owned the Chicago Cubs, a franchise in Major League Baseball. As World War II raged and more and more American men were being drafted, membership on major league and minor league baseball teams was dropping. Some minor league teams disbanded altogether.

Determined to make a difference, Wrigley approved a focus group's recommendation to create a women's softball league. This was done, and tryouts took place in a dozen cities. In 1943, the first season of professional women's softball was played out in four Midwestern towns. The teams were the Kenosha (Wisc.) Comets, Racine (Wisc.) Bells, Rockford (Ill.) Peaches, and South Bend (Ind.) Blue Sox. Each of the four teams played a total of 108 games that season. Halfway through the season, the league owners switched from softball to baseball.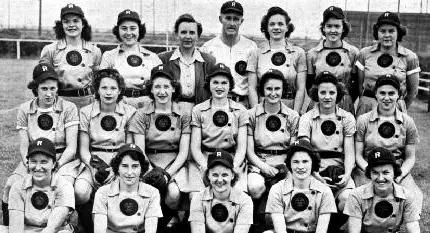 The rules were similar to the men's game. Eventually, overhanded pitching of a baseball replaced underhanded pitching of a softball. The pitcher threw from a mound that was 40 feet from home plate (compared to 60 feet in the men's game). Unlike softball, players could lead off and steal bases. Bases were 65 feet apart (compared to 90 feet in the men's game). Bats used by women were a bit lighter than bats used by men. The league also endeavored to keep the talent levels of all teams balanced, and players were traded mid-season to ensure this parity.
Next page > Beauties on the Diamond > Page 1, 2