---
Wilt Chamberlain's 100-point Night: a Record Yet Unbroken

Share This Page

---
Follow This Site



It was a Friday night in 1962. The date was March 2. The Philadelphia Warriors were playing the New York Knicks in an NBA game in Hershey, Penn. The final score was 169–147, in favor of the Warriors. One of their players, Wilt Chamberlain, scored 100 of those points.
Chamberlain's record still stands.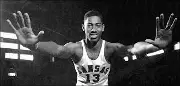 Chamberlain was one of the National Basketball Association's most dominant players, playing for 13 seasons and retiring as one of the league's all-time leading scorers and rebounders. The 7-foot-1-inch powerhouse had been a star player at Philadelphia's Overbrook High School and then at the University of Kansas, where he played in one of the NCAA Tournament's most memorable championship games, a three-overtime loss to North Carolina. A notable highlight from his high school career was his scoring 90 points in his team's 123–21 victory.
He left KU after three years and played a year with the entertainment-focused Harlem Globetrotters before joining the NBA. The 1962 season was his third in the league, and he was already a leader in scoring, rebounding, and shot-blocking.
Chamberlain's 100-point scoring effort came against the Knicks, who at that point late in the season had a record of 27–45 and were last in the standings. The Warriors, on the other hand, had a recorf of 46–29. In addition, on that night, the Knicks were missing their starting center, Phil Jordon. Filling in for him and guarding Chamberlain on that night was Darrall Imhoff.
Imhoff was 6-foot-10 and a quality player. He had led his University of California team to the NCAA Championship in 1959 and had won a gold medal in the 1960 Olympics. He lasted just 20 minutes against Chamberlain's onslaught and left because of foul trouble. In fact, one source says that Imhoff, talking to an official who had whistled him for his third foul, sending him to the bench, retorted, "Why don't you just give the guy a hundred now and we can all go home."
Taking over for Imhoff were a variety of players, including rookie Cleveland Buckner. The fact was that Chamberlain was incredibly dominant. He also had help from his teammates, who kept getting him the ball, sometimes passing up opportunities for themselves. Chamberlain on that night took 63 shots and made 36 of them. (This was before the advent of the three-point line.) That gave him 72 points from the field. That would have been a great night for any NBA player.
But Chamberlain was't just any NBA player. He was a very, very talented NBA player. He did have a few weaknesses, however, and one of those was his free throw shooting. Like many men his size, he wasn't all that good at shooting from the free throw line. In his career, he made only 51.1 percent of his free throw. And yet, on this night, he made 28 of 32 attempts. Making 28 free throws gave him 28 points; adding that to his 36 successful two-point shots, a total of 72, gave him an even 100.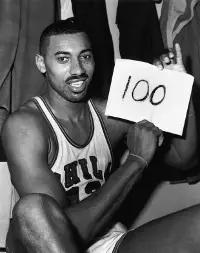 The Knicks certainly fouled him enough, in an attempt to keep from scoring. But the Warriors, in an effort to keep getting the ball back and keeping giving the ball back to Chamberlain, started their own fouling strategy in the fourth quarter, as Chamberlain's point total inched toward the 100 mark. The Warriors' strategy of fouling the Knicks was also in response to the Knicks' strategy of fouling Warriors players other than Chamberlain and of the Knicks' deliberately slowing down the game. Chamberlain scored 31 points in the fourth quarter. (His first three quarter totals were 23, 18, and 28, respectively.)
Chamberlain was no stranger to scoring lots of points. He had scored 78 in a game earlier in the season, and he averaged 50 points a game that season. The 100-point game was on a Friday; earlier in that week, he had scored 67, 65, and 61 points, respectively, in three other games. He later scored 72 and 73 in two different games but never came close again to scoring 100.
Other facts:
Only 4,124 people attended the game, which was played at a 8,000-capacity arena in Hershey, 85 miles from Philadelphia, the Warriors' hometown
The game was not televised; only audio footage remains
Chamberlain had not slept the night before
The combined 316 points was a record, as were Chamberlain's 36 field goals and 28 made free throws
Chamberlain also had 25 rebounds and 2 assists
The Warriors decided only at halftime to do everything they could to get Chamberlain to 100 points
Kobe Bryant scored 81 points in a game in 2006. That is the second-highest point total ever.