---
Satchel Paige: Baseball's Larger-than-life Talent, Showman

Share This Page

---
Follow This Site



Part 2: Longevity and Fame
Paige began his professional career in 1926, playing for the Chattanooga Black Lookouts. In the next two decades, he played for several other teams, including these:
Baltimore Black Sox
Birmingham Black Barons
Cleveland Cubs
Kansas City Monarchs
Memphis Red Sox
New York Black Yankees
Philadelphia Stars
Pittsburgh Crawfords.
Major League Baseball did not allow African-American players until 1947, when Jackie Robinson first played for the Brooklyn Dodgers. As a result, Paige and other African-Americans played in various iterations of their own professional leagues, the most famous of which was the Negro National League, begun by Pittsburgh's Gus Greenlee.
By the 1930s, black players and white players were occasionally playing against one another, in exhibition games and in winter leagues. Paige made a habit of racking up strikeouts and wins against white players.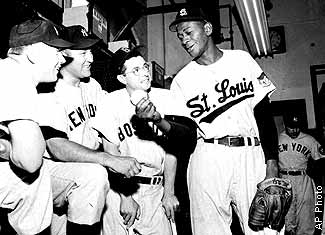 Many in America took particular notice of Paige in 1934, when he was the main pitcher on a black-and-white team that won a well-known Denver tournament known as the "Little World Series." Paige pitched three games in five days, giving up only one run and striking out 44 batters in 28 innings.
In the same year, Paige played in a series of exhibition games against white Major League players. One in particular was in front of 18,000 fans in Los Angeles and featured Paige outdueling Hall-of-Famer Dizzy Dean 1-0. The game went 13 innings.
Paige played in the Major Leagues for the Cleveland Indians, St. Louis Browns, and Kansas City Athletics. He also played for many other baseball teams, in the U.S, Cuba, the Dominican Republic, Mexico, and Puerto Rico.
It was for the Indians in 1948 that he became, at 42, the oldest rookie in the Major Leagues. He was the seventh African-American to join Major League Baseball, and he was the teammate of Larry Doby, the first American League African-American. The Indians won the World Series that year, beating the Boston Braves 4 games to 2.
Paige pitched another season for the Indians, then signed with the St. Louis Browns and played three seasons. In between Major League stints, he returned to playing in exhibition games and went on "barnstorming" tours with Major Leaguers and Negro League players, traveling the country and playing in game after game, night after night, to big crowds.
Next Page: Larger than Life