---
'Auld Lang Syne'
Also on This Site
Share This Page

---
Follow This Site


---
"Auld Lang Syne," a song sung by a great many people on New Year's Eve (mainly just before midnight) is a very old Scottish song, sung many years before the words to it were recorded in writing. Famed Scottish poet Robert Burns gets the credit for that, in 1788, although the phrase was used in similar poems as far back as the 16th Century.
The phrase "auld lang syne" has been defined many ways in the centuries since. Some definitions are these:
times gone by
days gone by
old times
long, long ago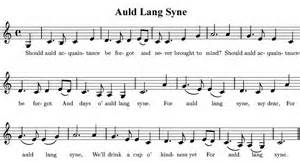 It has long been a Scottish custom to sing this song on New Year's Eve, and the custom spread as Scottish people traveled to new lands.
The most common singing of the song involves just the first verse and the chorus:
Should auld acquaintance be forgot, and never brought to mind?
Should auld acquaintance be forgot, and auld lang syne?
For auld lang syne, for auld lang syne,
we'll take a cup of kindness yet, for auld lang syne.
Scottish tradition has a group of people crossing arms and holding hands during the singing of the song.
The song is routinely sung at gatherings other than New Year's Eve, including at meetings of Burns Clubs, gatherings to celebrate the life and works of Robert Burns. In fact, one story has it that the idea of the song's being a New Year's Eve tradition was an accident: A live band at a New York hotel played the song just before midnight on New Year's Eve in 1929, during a radio broadcast, and the tradition was born.
A great many books, songs, films, and television shows have depicted characters singing "Auld Lang Syne."