Wisconsin Governor Issues Union-bill Ultimatum
---
February 28, 2011
The battle over union legislation in Wisconsin continues, with Gov. Scott Walker issuing an ultimatum for absent Democratic Senators to return and pro-union protesters being forced to abandon the Capitol Building as their place of protest.

The Wisconsin House has already passed the bills, which would weaken the power of labor unions to negotiate on behalf of members for wages and benefits. A total of 14 Democrats in the state Senate have been avoiding a vote on the bills by staying out of the state entirely. Because Wisconsin Republicans do not have a quorum — the number of members needed to force a vote — they cannot send the bill to Walker's desk for signing
The governor had earlier sent state troopers to round up the absent Democrats, but none was at their home address.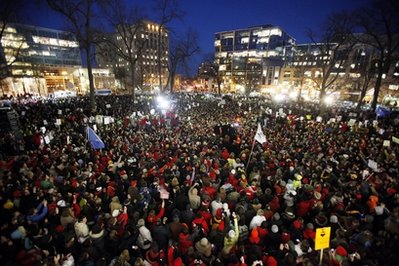 Meanwhile, the size of the crowd protesting against the legislation shrunk, mainly because of the people's inability to remain the Capitol Building, headquarters of protests by thousands of people for nearly two weeks. A few protesters remained ensconced inside, but police succeeded in keeping most of the protesters outside in the cold. During the weekend, the crowd numbered 70,000 — the largest protest crowd since the Vietnam War.

The legislation is aimed at curbing the state's yawning budget deficit. Walker and the GOP say that the bills will help avoid layoffs by saving $165 million in a debt restructure. Democrats counter that the bills would forever alter workers' power to bargain for wage and benefits increases because they would have to do so on a more individual basis, rather than as part of a union, as well as require an annual review of union certification. Walker has threatened to up the ante further by unveiling a budget that would cut $1 billion from funding to schools and local governments.

A similar story is taking place in nearby Indiana, where Democratic lawmakers are also absent in order to try to prevent a similar bill on similar legislation. Protest crowds in Indianapolis, the state capital, are not as big as those in Madison, Wis.
Other cities that have similar bills pending:
Alaska
Hawaii
Maine
Michigan
Minnesota
Montana
New Hampshire
New Jersey
New Mexico
Pennsylvania
Virginia
Washington
West Virginia

Social Studies
for Kids
copyright 2002-2014,
David White
---