Labor Bills Inflame Political Protests, Debate in Rust Belt
---
February 23, 2011
The Middle East and Africa are not the only flashpoints for governmental protests. Three states in the U.S. are the scene of fierce debate over legislation aimed at curtailing the power of labor unions.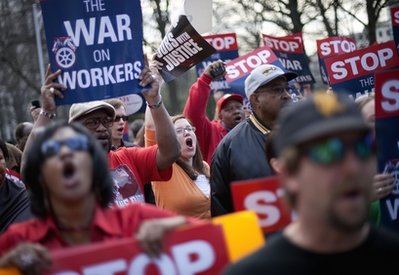 Thousands of people have gathered in Madison, the capital of Wisconsin, for more than a week to protest a series of bills that would weaken the power of collective bargaining — the practice of workers and employers negotiating in good faith on things like wages, insurance coverage, and unemployment benefits. Wisconsin Gov. Scott Walker has put forward the bills, which would put a limit on salary increases and the number of things that workers could bargain about, including the very possibility of joining a labor union.

Walker, a Republican, has GOP majorities in both houses of the state legislature, so passage of the bills would seem to be assured. Yet Democratic Senators have fled the state in order to prevent a vote on the bills. (Each state house would need to have a quorum, the minimum number of people needed to vote on something, and Republicans don't have a large enough majority to get a quorum all by themselves.) Democratic members of the Wisconsin lower house have succeeded in filibustering the union bills.

The same was true in Indiana, where smaller crowds protested against similar bills and Democratic lawmakers were also absent, and in Ohio, where Republicans had a much larger majority and so could probably be assured of passing the bills along to the Republican governor for signing. Recently, though, Mitch Daniels, the governor, has asked GOP lawmakers to stop pushing some of the bills so the state government could back down to business.

All three governors and their fellow Republican lawmakers claim that the bills are necessary to curb spending on worker salaries and benefits in order to confront a growing budget deficit. Union leaders and Democratic lawmakers claim that the proposed legislation severely weakens workers' ability to get and keep benefits.

Among the proposals in Indiana was a bill granting retired teachers a cost-of-living increase.








Social Studies
for Kids
copyright 2002-2014,
David White
---