---
Lifelike Sculptures People Europe's 1st Underwater Museum

On This Site
Share This Page

---
Follow This Site



January 22, 2017
More than 300 sculptures await travellers off the coast of Spain, but visitors will need snorkel gear to truly appreciate the artworks.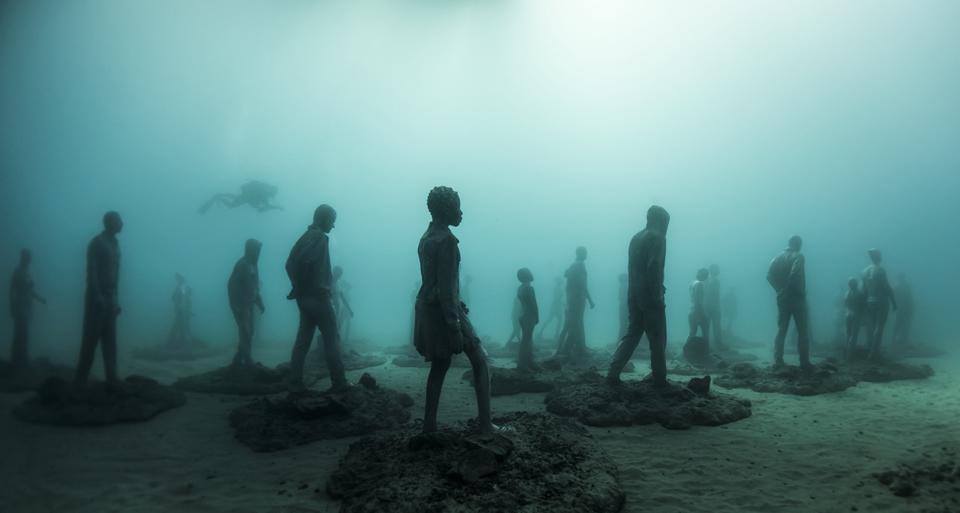 The Museo Atlantico is on the seafloor of Las Coloradas bay, more than 45 feet below sea level, on a an area of seabed covered only by sand. One set of sculptures contains more than 200 life-size human figures.
The extremely life-like sculptures are the product of the imagination and skill of noted artist Jason de Caires Taylor. No stranger to such underwater endeavors, the British artist has done similar work for other below-sea level museums, in the Bahamas and Mexico.
He created the world's first such attraction, the Molinere Underwater Sculpture Park, off the west coast of Grenada; that attraction opened in 2006.
This museum, however, is Europe's first underwater attraction.
The artist completed the sculptures on land and then lowered them into the water in February 2016. The museum opened a month later, but everything was not ready for the public until the end of the year.
De Caires Taylor made the sculptures from environmentally friendly concrete. Some of the sculptures will help approximate a reef, to provide a breeding site for the sea life that exists nearby.
Travelers wanting to visit the underwater museum can pay $49 for a diving tour, which begins at Lanzarote.