---
Titanic Survivor's Onboard Letter Set for Auction

On This Site
Share This Page

---
Follow This Site



April 10, 2018
A letter written aboard the Titanic will be soon up for auction.
Kate Buss, who survived the sinking of the ocean liner, was a Second Class passenger on the doomed voyage. She wrote the letter on April 10, 1912, one day after she and the other passengers left Southampton, England.
The letter, which Buss posted on the ship, is written in black ink on four sides of a piece of paper and is addressed to Percy James, her brother. Buss notes receiving his letter while she was aboard ship.
Buss writes of the magnificence of the First Class apartments and of the shared meals that she enjoyed. She also wrote that her stateroom roommate had yet to show up.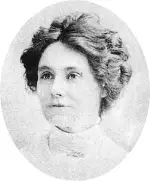 Buss was reading a newspaper when the ship struck the iceberg. She made it onto Lifeboat Number 9 and then to the Carpathia, to complete the journey to America. She was on her way to meet the man she would eventually marry, Samuel Willis. They married the next month and had a daughter, Sybil. The family lived in California and then Oregon. Willis died in 1953. Buss died in 1972, at age 96.
The letter is one of a number of Titanic-related items on auction at Henry Aldrige & Son. The auction is set for April 21.
Aldridge has made a name for itself selling off such items. In 2017, the auction house sold the only known letter on Titanic notepaper to have gone into the Atlantic and come back out again. That letter went for 126,000 pounds (US$166,363), the highest total so far for a Titanic-related item. American businessman Alexander Oscar Holverson wrote that letter to his mother. The letter survived the sinking, but Holverson did not.