---
Oklahoma Teachers on Strike for Fourth Day

On This Site
Share This Page

---
Follow This Site



April 5, 2018
Oklahoma teachers skipped class for a fourth straight day in an effort to call attention to what they say is a dire need for more money–for themselves but, more importantly, for their students.
The Oklahoma Legislature recently approved a $6,100 pay increase for the state's teachers, which ranked 49th in the country in average salary; the teachers want that number to be $10,000, partnered with another cash infusion to bolster spending on things they say are vital, like heating in school buildings and replacements for school supplies that are falling apart. The state also ranks 47th in per-student expenditures.
An Oklahoma art teacher shared on social media a photo a broken chair in her classroom; in response, people she didn't know sent her $44,000 in donated supplies–more than her total annual salary.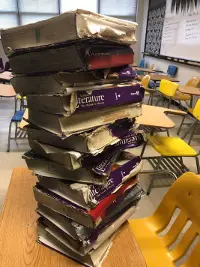 Photos also shared showed textbooks lacking bindings and covers. One teacher shared a photo of a textbook that listed as the current U.S. President George W. Bush, saying that that was the last textbook the school district bought for her students.
Schools in more than 100 school districts remained closed. Many students joined their teachers in the statehouse protest.
In the meantime, the Oklahoma House of Representatives approved a $20 million Internet sales tax, part of what the striking teachers hope is a $200 million spending package. The tax bill, which still needs approval from the state's upper house and governor, would target third-party vendors like Amazon to pay state sales tax on things that Oklahoma residents bought online.
Another topic of discussion in both houses of the Oklahoma state legislature is repealing exemptions for capital gains taxes. Oklahoma is one of a number of states that have enacted large-scale tax cuts in recent years, while also cutting spending to compensate for the lost revenue. The state's Republican-led legislature has also prioritized business subsidies in recent years. And GOP Gov. Mary Fallin, who signed the original $6,100 pay increase, told media outlets this week that she thought the teachers who got that increase but wanted more were like a "teenage kid that wants a better car."
Another element of the story is that Oklahoma has a teacher shortage. The state has employed nearly 2,000 stopgap instructors in an effort to keep its students learning.
One teacher reported pulling up stakes and moving across the border to Texas, saying that her initial Oklahoma salary was $30,000 a year and her salary after 11 years teaching there was just less than $40,000; her first job in Texas, by contrast, is paying her $55,000. The Texas Education Agency reported that in the past eight year, about 3,500 teachers from Oklahoma have sought certification in Texas.
Oklahoma is the latest state in which teachers have walked out of classrooms in order to demand higher pay. Kentucky teachers converged on their state capital about the same time that the Oklahoma teachers converged on theirs, and West Virginia teachers several days before that struck for nine days and won concessions from their state's legislature that included higher salaries.