April 2, 2018
Tens of thousands of teachers in Kentucky and Oklahoma have marched to their respective state capitols in order to protest their pay and other benefits.
These demonstrations followed on a nine-day strike by West Virginia teachers a few weeks ago that resulted in that state's legislature's approving pay raises of 5 percent.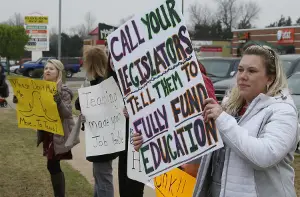 The Oklahoma protesters, about 30,000 from hundreds of schools across the state, converged on the state capitol in Oklahoma City in order to call for increases in funding for programs and supplies that the teachers say have been removed in recent years. Nearly half of the schools across the state closed on Monday as a result; further school closures were expected for Tuesday.
Oklahoma Gov. Mary Fallin just last week signed a bill passed by the Legislature that raises the state's teachers' pay by an average of $6,100 a year and support staff's pay by an average of $1,250 a year while also allocating $50 million for education funding. The Legislature paid for the increase by raising taxes on cigarettes and on the oil and gas industries. The state had cut taxes on those industries and on personal and corporate income in 2014.
It was the largest pay raise in the state's history and the first in a decade, and it came in the wake of a 2017 report by the National Education Association that the state's teachers were among the lowest paid educators in the country. The Oklahoma Education Association had campaigned for an annual pay raise for teachers of $10,000 and of $5,000 for support staff (including bus drivers and custodians), the union president, Alicia Priest said. She also said that the union had called for an increase in education spending of $200 million during the next three years. The protesting teachers thanked the Legislature for the salary increase but said that they were marching because they thought it wasn't enough. Oklahoma teachers union officials estimated that the state had cut education funding by $100 million during the past decade.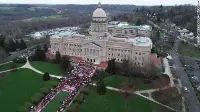 In Kentucky, gatherings took place outside Frankfort's headquarters of the Kentucky Education Association and at the statehouse. The Kentucky Legislature had recently passed a series of bills as a way to target a projected $41 billion shortfall during the next 30 years. The pension reform, which included cutting pensions for first-time and retiring teachers, was part of another bill allocating funding for not education but sewage. Teachers union officials countered that the bill as passed would create a savings of only $300 million. Kentucky teachers are not eligible for Social Security benefits.
Kentucky lawmakers released plans for a new spending bill that includes more money for education, including a rollback of a proposed cut in funding for school buses. The Kentucky Senate has already approved the spending bill, which offsets some of the spending increases by implementing a sales tax on previously tax-free services.
Most of the Kentucky teachers were on spring break, but some did not go to work in order to attend the Frankfort event and many school districts as a result; most of the Oklahoma teachers walked out of their classrooms in order to attend the protest because their spring break was the week before.
Many teachers in both states have a second job in order to make ends meet. Teachers in both states said that their textbooks were regularly decades old or too few in number for the size of their class. Some teachers have said they often had more students than chairs. Some school districts in Oklahoma have made a move to four-day work weeks in order to save money. Many teachers reported shivering along with their students because of faulty heating systems in school buildings.
As well, thousands of teachers in Arizona last week walked out of their classrooms and gathered at that state's statehouse, in Phoenix, to contemplate taking similar action in order to highlight their call for a 20-percent raise.