---
Arizona Teacher 'Walk-ins' Have Lawmakers Seeing Red

On This Site
Share This Page

---
Follow This Site



April 12, 2018
Arizona teachers by the thousands wore red shirts and carried signs to call attention to their call for higher salaries and more school funding. The "walk-ins," in which teachers took their protest to work with them, were in contrast to the recent walkouts in two other states, Kentucky and Oklahoma.
At 1,112 schools across the state, the Arizona teachers had demonstrations before school began, as part of a campaign dubbed RedforEd. Among their demands were a 20-percent salary increase and more than $1 billion in new education funding. Arizona teachers rank 48th (high school) and 49th (elementary school) in the U.S. in cost-of-living-adjusted salary figures.
The Arizona teachers' demands were similar to those voice by teachers in Kentucky and Oklahoma during the past weeks and in West Virginia a few weeks before that. West Virginia teachers convinced their state legislature to approve more funding for teacher salaries (5 percent). Kentucky has yet to do so, and Oklahoma did so but that state's teachers said it wasn't enough.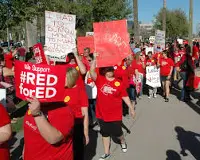 The Arizona governor and legislature have been touting a 1-percent teacher salary increase and an allocation of $100 million in education funding. The state recently cut funding by $400 million.
The group Arizona Educators United organized the protests and said that walkouts, even long-term ones, could be next. Teachers had gathered at the statehouse in Phoenix in March as a first form of protest.