---
Teen Journalist Sleuths to Attend White House Press Dinner

On This Site
Share This Page

---
Follow This Site



April 23, 2017
Six Kansas high school students whose investigative efforts resulted in the resignation of their school's principal will be attending the White House Correspondents' Dinner in Washington, D.C.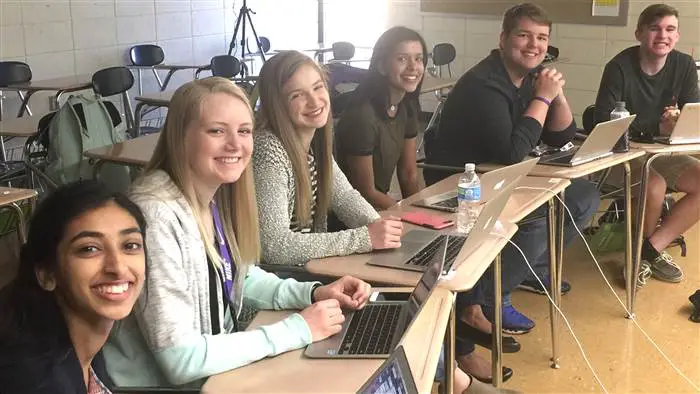 The six–Maddie Baden, Connor Balthazor, Gina Mathew, Trina Paul, Kali Poenitske, and Patrick Sullivan–gained nationwide attention after their dogged fact-checking exposed questionable credentials of Amy Robertson, the principal at Pittsburg High School.
The annual D.C. dinner, which this year takes place on April 29, is put on by the White House Correspondents' Association. The website Huffington Post invited the students and will pay their expenses. The students' advisor, Emily Smith, will accompany the students to the nation's capital and to the dinner.
Pittsburg (Kan.) Community Schools hired Robertson as high school principal in March. Baden, a staffer at the school's newspaper, the Booster Redux, set out to write a profile of the new principal. Baden's initial Internet search raised some eyebrows and then some red flags, and Baden sought help from others on the Redux staff.
The students discovered that Robertson's claim of earning a bachelor's of fine arts degree from the University of Tulsa was false; this was verified by the university, which said that it had never awarded such a degree.
The students also discovered that the university from which Robertson said that she earned her master's and doctorate degrees, had been the subject of multiple complaints about its accreditation. Corllins University has no physical address and is known in some sources as a "diploma mill."
Robertson said that she had also worked as the chief executive of Atticus I S Consultants, an education consulting firm. The students found no information about this firm in any of their investigations.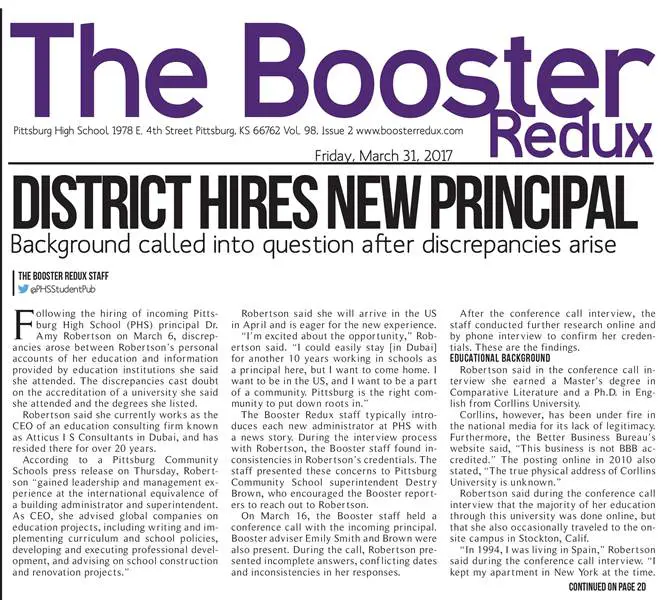 The more digging the students did, the more serious their questions became. They gained the support of their school superintendent, Destry Brown, who encouraged them to contact Robertson directly. They asked questions of Robertson herself, in multiple phone calls; during these interviews, the students said, Robertson presented incomplete information and gave conflicting answers to straightforward questions.
In the end, the students called into question Robertson's credentials enough that she resigned as principal, on April 4, four days after the students published their findings in a front-page story in the Redux.
The story found exposure in news outlets and on the Internet. The students and their teacher have since been interviewed by major newspapers and TV stations around the country.
Robertson, who has lived in Dubai for 20 years, did not serve a day as principal of Pittsburg High School. Her first day was to be July 1.