---
Middle Eastern Countries Isolate Qatar on Terrorism Charges

On This Site
Share This Page

---
Follow This Site



June 6, 2017
Several countries have cut off diplomatic ties and closed up air, land, and sea links with Qatar, citing reports that the Persian Gulf monarchy is and has been funding terrorist groups. 
Making the break were Bahrain, Egypt, the Maldives, Saudi Arabia, the United Arab Emirates, and Yemen. Those countries banned all flights from their countries to Qatar, and vice versa. The International Air Transport Association called on all countries involved to restore air links as quickly as possible.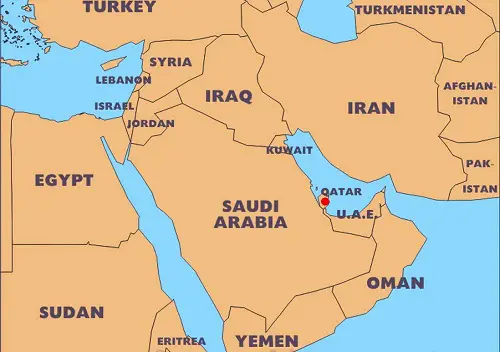 The countries also ordered the expulsion of Qatari foreign ministers from their shores and gave Qatari citizens within their borders 14 days to leave. Saudi Arabia closed its capital city office of the Al-Jazeera global news channel, which is based in Qatar. 
Kuwait's leader, Emir Sheikh Sabah al-Ahmad Al-Sabah, was in the Saudi city of Jeddah, meeting with Saudi King Salman bin Abdul Aziz, trying to mediate. Qatar's leader, Emir Sheikh Tamim bin Hamad Al-Thani, had been in Kuwait last week, for a discussion with that country's leader.
Oman, the other member (along with Bahrain, Kuwait, Qatar, Saudi Arabia, and the UAE) of the Gulf Cooperation Council, had yet to announce its position on the issues.
Qatar, for its part, denied the accusations and cited a recent alleged hacking of its state news agency as part of a campaign to discredit the country. Qatar's leader was said to have spoken out against the United States's tense relationship with Iran and to have suggested that U.S. President Donald Trump would not long be the leader of that country. Trump visited the region two weeks ago and made clear his preference for a Saudi-led alliance that was critical of Iran. Qatar's foreign ministry said that the government did not make those remarks and that such reports were manufactured by hackers.
Another charge was that Qatar was a supporter of Iran, Saudi Arabia's arch-enemy in the region. (That conflict is geopolitical but also religious, in that Iran is a majority Shia Muslim country and Saudi Arabia is a majority Sunni Muslim country; the two denominations have struggled, sometimes violently, with serious disagreements for more than a thousand years. Qatar is a majority Muslim country as well; most Qatari Muslims are members of the Sunni denomination.) Neither that charge nor the accusation of fostering terrorism is a new one. Ties between Qatar and its Middle Eastern neighbors have been strained for awhile now.
With Qatar effectively cut off from its neighbors, the mood on the streets of the capital, Doha, was tense. Many residents bought large amounts of food and goods. Saudi food trucks were idled along the Saudi-Qatar border; most of the food consumed in Qatar comes from Saudi Arabia.  
Qatar houses the largest American airbase in the Middle East. About 10,000 people associated with the U.S. military are stationed at the Al-Udeid base. Qatar supplied weapons and troops to the Gulf War armies that opposed Iraq in 1991 and allowed those armed forces to launch aircraft from its territory.
The airbase has for several years been a prime staging ground for actions against al-Qaeda and the Islamic State, both against which the U.S. and several other countries have been struggling in recent years. The Taliban, an extremist group operating primarily in Aghanistan, has set up an office recently in Doha.
Many Gulf nations made similar moves in 2014, recalling their ambassadors from Qatar in a show of disdain for that country's support of the widely known Islamist resistance organizations Hamas and the Muslim Brotherhood. 
Populist uprisings in Egypt, Libya, and Tunisia in the past few years have produced divided loyalties among the Middle Eastern nations. Qatar has generally spoken out against the uprisings.
Qatar has a history of occupation by various empires and was for a time ruled by both Bahrain and Saudi Arabia. Qatar was more than 40 years ruled by the Ottoman Empire and was then a British protectorate, in the 20th Century, before gaining independence in 1971.  
Qatar is an oil-rich member of the Organization of Petroleum Exporting Countries (OPEC), with 13 percent of the world's oil reserves, and has the world's fourth-highest Gross Domestic Product per capita.
The country has both a hereditary monarch and an elected government, supported by a constitution. In 2010, Qatar was anounced as the first Middle Eastern country to play host to the Soccer World Cup; that is scheduled for 2022.
Search This Site
Custom Search
Social Studies for Kids
copyright 2002–2017
David White