January 15, 2017
Zhou Youguang, the creator of the Romanized Chinese writing standard Pinyin, has died. He was 111.
Chinese has tens of thousands of characters in its writing system; for most of its history, the language has proved difficult to learn. In 1958, Zhou changed that.
An economist by trade, Zhou spent time on Wall Street before returning to his homeland and teaming up with a group of linguists to create Pinyin, which can be roughly translated into English as "spelled sounds."
The alphabetic system he helped create is used by hundreds of millions of people in China alone and by billions of people all around the world.
Zhou's father was an official in the Qing Dynasty. The last of many dynasties, the Qing ended in 1912. Zhou was born Zhou Yaoping in Changzhou, in the eastern part of the country, in 1906. He changed his first name to Youguang when he was an adult.
Zhou studied at Shanghai's St. John's University and then Guanghua University, from which he earned a degree in economics. He and his family moved to Chongqing after the Japanese invasion of China, in the 1930s; there, he worked for the Sin Hua Trust and Savings Bank. Among his accomplishments was making a good impression on Zhou Enlai, who went on to become China's leader, serving in that capacity from 1949 to 1976.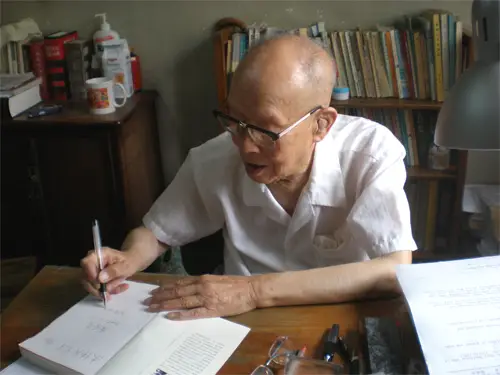 After the end of World War II, Zhou Youguang moved to New York, to represent his bank. He stayed three years, coming home after the Communist takeover of China, in 1949, and taking a job teaching economics at Shanghai's Fudan University.
In 1955, the Chinese Government embarked on a plan to boost literacy, in large part because estimates at that time were that 85 percent of the population was illiterate; part of this program was to create an alphabetic system that would be easier to use than what existed at that time. Zhou Enlai, by then the leader of the country, remembered that Zhou Youguang counted linguistics among his hobbies and convinced the economist to come to Beijing to lead a panel of experts in creating the new language.
Others had tried before, most notably the 19th-Century British creators of the Wade-Giles system, which was regarded as a step forward but not a complete solution. It fell to Zhou Youguang and his team of linguists to create what they called Pinyin, which employed the Roman alphabet and simple top-of-letter marks called diacritics to represent tones.
The Government adopted Pinyin on February 11, 1958, and the new system was a great success. Zhou Youguang enjoyed a brief period of success but was victimized by the intellectual purges of Mao Tse-Tung and sent to a labor camp for more than two years.
Zhou served his time and returned home, where he wrote and wrote. He was the author of more than 40 books in the end; and in the 1980s, he helped oversee the translation of the Encyclopaedia Brittanica into Chinese.
Zhou's wife, Zhang Yunhe, died in 2002. They had two children: Zhou Xiaohe, a girl, died as a child; Zhou Xiaoping became an astrophysicist and died in 2015.
Zhou himself, an outspoken critic of the Chinese Government to the end, died of natural causes in a Beijing hospital.
The legacy of Zhou Youguang is that Pinyin serves as a solid introduction to the written language and is also used extensively on computers and smartphones.