Nuclear Situation Critical in Tsunami-Ravaged Japan
---
March 13, 2011
Japan reported that four nuclear power plants were having problems (two seriously) following last week's 8.9 earthquake and resulting tsunami. Meanwhile, the massive search and rescue effort continued, as the death toll grew and grew. The official death toll announced by the Japanese Government is nearly 2,000, but officials fear that the final number will be far, far greater.

Officials at the Fukushima Dai-ichi Nuclear Power Station raced to contain a situation that was rapidly escalating, after an explosion destroyed the building surrounding the reactor, another explosion rocked the surrounding area, and a valve malfunction delayed some coolant from getting to the reactor. Hundreds of people were thought to have been exposed to radiation, although officials think that the exposure level for most people was low. Another plant, Fukushima Dai-ni, was also having problems, prompting the evacuation of a total of 80,000 people from the Fukushima area. At two other plants, one near Sendai and one 75 miles north of Toyko, officials reported issues with cooling or pressure levels.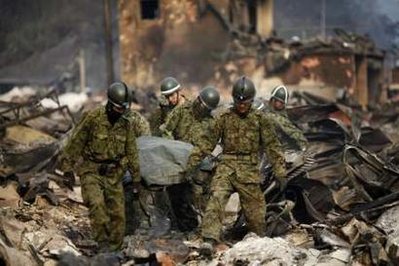 Meanwhile, the government ordered the largest callout of the Self-Defense Forces since World War II to aid in the relief effort. Already, rescue teams had arrived from several other countries, including New Zealand, which is still recovering from a 6.3 earthquake that devastated the country's second-largest city, Christchurch, on Feb. 22. (A team of Japanese relief workers had just returned home from a mission to New Zealand when the Sendai quake hit their home country.) The United States announced that two aircraft carriers would provide much-needed manpower and supplies, including fresh water — which, despite the remnants of the powerful tsunami waves, was in short supply in many areas.

Millions of people are without electricity and/or running water, a time when temperatures in Japan are near freezing. The government announced that power would be restored as quickly as possible but that rolling blackouts would be instituted for a few days, to ensure that the resulting restoration of power doesn't result in anymore fires than are already burning. Temporary shelters dot the ruined landscape, overflowing with refugees from all over the northeast part of the main island, Honshu. A great many people have fled the area, hoping to stay with friends or relatives as long as they can.

A clear idea of how many people died won't be known for weeks, perhaps months. The police chief from one particularly hard-hit area reported a death toll of 10,000 in that area alone. Large areas of the countryside remain surrounded by water and are virtually unreachable.

Social Studies
for Kids
copyright 2002-2014,
David White
---